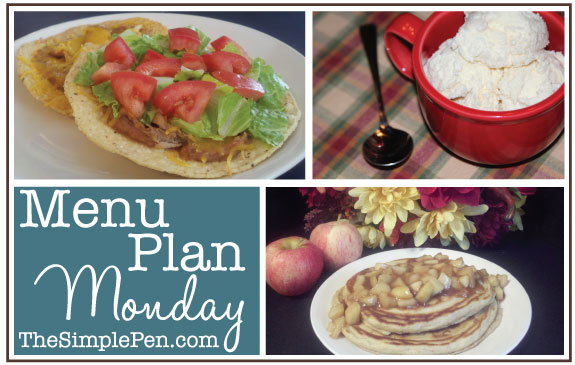 My normal menu planning routine includes hunting through the fridge, freezer, and cupboard to see what we already have. I try to plan around that and then fill in the gaps with sale items from the grocery store.
Last week was crazy at our house. I decided to boycott grocery shopping as long as possible. I ended up making a last-minute run to the grocery store on Saturday morning, attempting to get home in time to catch the Ohio State football game. Needless to say, I didn't have a menu plan. I didn't have a great list. I was flying by the seat of my pants.
While I was at the store, I picked up some chicken and ground beef and a few other items and figured I'd create a menu plan around that. So here goes!
:: Breakfasts ::
Homemade granola with fresh fruit
Gluten-free pumpkin pancakes
Gluten-free pumpkin muffins (I *almost* have this recipe perfected for you!)
Eggs, sausage, fresh fruit
Apple cinnamon baked oatmeal
Smoothies, scrambled eggs
:: Lunches ::
Leftovers
Sandwiches, veggie tray
Hot dogs with chili sauce, carrot sticks
Munchy lunch (cheese, popcorn, celery with peanut butter, fruit)
Homemade pizza
:: Dinners ::
Crock Pot roast with potatoes and veggies
Chicken & rice soup with gluten-free cornbread (still working on that recipe)
Chicken Fried Rice
Loaded baked nachos
Loaded Mexican baked potatoes
If you're looking for some general menu planning inspiration, stop by Menu Plan Monday hosted by I'm an Organizing Junkie.