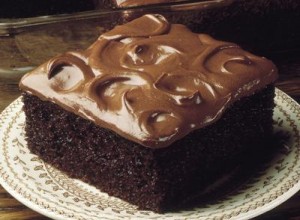 Around here, birthdays call for a Deep Dark Chocolate Cake. This is the best chocolate cake I've ever had.
Deep Dark Chocolate Cake
2 cups sugar
1 3/4 cups all-purpose flour
3/4 cup Hershey's cocoa
1 1/2 teaspoons baking powder
1 1/2 teaspoons baking soda
1 teaspoon salt
2 eggs
1 cup skim milk
1/2 cup lighter flavor olive oil
2 teaspoons vanilla extract
1 cup boiling water
Heat the oven to 350 degrees.
Begin heating water in your tea kettle.
Grease and flour a 13×9 cake pan (or two 9-inch rounds).
In a large bowl, stir together sugar, flour, cocoa, baking powder, baking soda, and salt.
Add eggs, milk, oil, and vanilla.
Beat on medium speed of electric mixer for two minutes.
Stir in the boiling water. (This will REALLY thin the batter.)
Pour batter into prepared pans.
Bake:

35-40 minutes for 13×9 pan
30-35 minutes for two 9-inch rounds
We usually top this cake with vanilla frozen yogurt, Hershey's chocolate syrup, and a little sprinkle of mini chocolate chips.