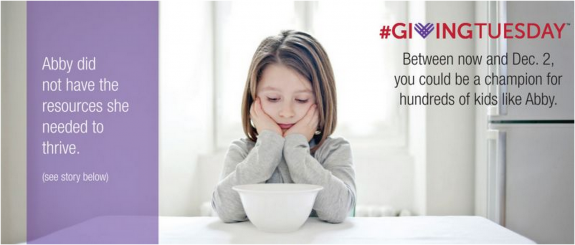 We've all met them… Kids who couldn't afford school supplies, warm clothes, or enough food to feel full. If we think back to our childhood days, we can probably all picture at least one kid we wish we could have helped. Their stories are heartbreaking and all too common.
Even now, as an adult, the needs feel overwhelming. My heart longs to fix all of the problems, but my pocketbook gives me a reality check. I have a couple of choices…. I can either be discouraged and do nothing, or I can contribute what my budget allows. If I do something — even a small something — my small amount can be put with other people's small amounts. Together, they can add up to make a big impact!
We may not have been able to make a difference for the needs we saw when we were children, but Champions for Kids is making it easy to make a difference in the lives of kids today. Tomorrow is Giving Tuesday, a chance for all of us to put our gifts together and give kids the resources they need to thrive. This year, 100% of donations will go to school nurses to help them meet the health and education needs of kids.
This year, an anonymous donor has agreed to provide a $5,000 grant for the Giving Tuesday project if Champions for Kids receives 100 gifts of any size between today and December 2. ANY SIZE! That means that even your small gift can contribute toward an extra $5,000 being donated! Click here to make a donation of any size or to learn more about Giving Tuesday.