This is a sponsored post brought to you by ConAgra Foods and The Motherhood. All opinions are – as always – honest and my own.

Summer's here! School's out! Yippeeeee!
That's probably the sentiment for most kids right now. They're thrilled to have escaped the daily school routine and kick back to enjoy a relaxing couple of months.
But for some kids, summer brings more than a chance to splash in the pool or conquer summer library reading goals. For some, summer means hunger.
Hunger? In the Summer?
Did you know that 21.5 million kids rely on free or reduced-price meals during the school year? And did you also know that only 2.3 million of those kids participate in the Summer Food Service Program? The others? Well, they might not know about programs available in their area. If they're in rural areas, they may  not have transportation to get to the food programs. And in some places, summer food programs just aren't available. That means that millions of kids who are in that gap may be at risk of hunger.

ConAgra Foods has been supporting programs that help provide for kids in need for 20 years. This summer, ConAgra Foods is partnering with 29 food banks in 20 states to offer Hunger-Free summer grants. These grants – ranging from $20,000 to $50,000 – will help food banks overcome the barriers that are keeping kids from getting the summer food resources they need. In fact, half of ConAgra Foods Foundation's $10 million commitment to Feeding America is dedicated to summer hunger support.
What About Your Area?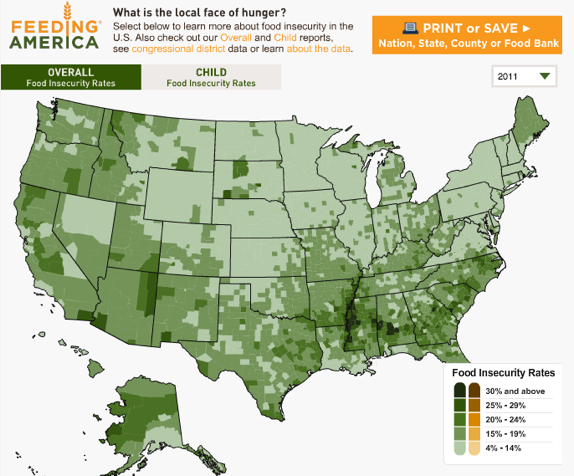 Wondering about the food insecurity statistics in your own community? Feeding America has a county-by-county hunger map for the whole country. Just click here, click your state, and zoom down to your county level for local stats. You may be surprised.
How You Can Help
Actor and father of five, Chris O'Donnell, is joining ConAgra Foods to raise awareness of summer hunger. Together they've created a video explaining the danger of summer hunger. The best part? For every view or share of the video, ConAgra will donate one meal.
So click here, watch the video, and then share it like crazy. Get everyone you know to watch it. Let's see how many meals we can get donated to help kids this summer.
Connect
To stay connected and learn about other ways that you can help, be sure to follow ConAgra Foods on Facebook and Twitter. You can also use Feeding America's Food  Bank Locator tool to help you find local help (or a local place to help).