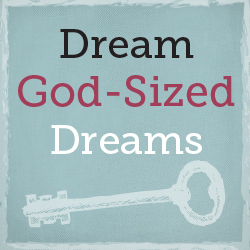 I'm a quiet, semi-shy person by nature. Stepping into a group of strangers and expecting to connect with them makes me want to run screaming from the room. Or at least throw up. Outgoing is not one of my personality traits.
Remember Holley's God-Sized Dream Team? I'm working with Holley and 99 other women (who are downright amazing) on the team. This week, Holley is impressing on us the value of having a support system for this adventure.
Fortunately I have my small (yet mighty) support system of friends. These are people I trust with everything. They cover me and my family in prayer and make themselves available when life gets hairy. The funny part is that I've never met most of them in real life. (I would've totally laughed at that statement a few years ago!)
Let me introduce you to my own little group of encouragers. In addition to the team Holley has set up, these people have agreed to walk alongside me as I pursue my dream.

Jason
My husband is my day-to-day encourager and accountability partner. He is the first to see the frustration and the victories. He's good about keeping us on task, which I REALLY need some days.

Kelly :: Foxen Media & Kansas City Mamas
My friend Kelly started working with us on growing our business last year, even before Holley's team formed. Kelly is a marketing rockstar, and she's also a blogger. So she's in the thick of this crazy online space each day. Kelly and I will be chatting each month on Skype, sharing ideas and motivation. Kelly is quick to encourage or offer a gentle shove in the right direction (whichever is needed at the time).

Amy :: The Finer Things in Life
Amy and I agreed to keep each other on top of some of our business goals this year. Amy is quick to encourage and always adds a welcome dose of wisdom and perspective. She's definitely my keepin'-it-real friend.

Emily :: Emily Says
Emily and I were paired up in Holley's team. She's my encourager for this adventure. While we're just getting acquainted, I can tell that she has a heart for encouragement.
Carey :: Cravings
I am Carey's encourager, but it seems to be a two-way street. This is another new friendship, but one that God can use as we both pursue our dreams.
Elizabeth :: Seasons with Soul
Elizabeth and I are both on Holley's team. We were excited to realize how close we live (close being a relative term when most bloggers I meet live in Texas!) Elizabeth and I live about an hour apart, making it possible to get together for lunch. It will be fun to encourage each other face-to-face as we both follow our dreams.
Well then. For someone who's more of a loner than a socialite, that's quite a list of supporters! 🙂
Are you chasing your own God-sized dream? If you are, I want to encourage you to not fly solo. Grab a friend or two or six who understand your heart. Pick someone who will bust out their inner cheerleader to spur you on.