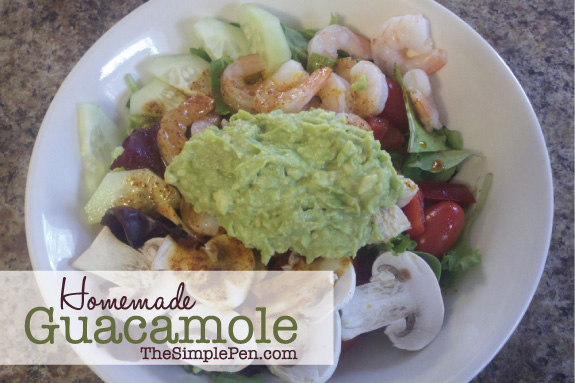 Truth… This month is the first time I've bought and used an avocado. Ever.
Another truth… Last month was the first time we'd ever had guacamole in the house.
I can't believe I went so long without trying guacamole. It took someone suggesting that I try some at a local mom -n- pop Mexican restaurant for me to even realize that that gooey green stuff actually tasted really good!
I bought some Wholly Guacamole for Emma's birthday party last month, and everyone ooh'd and aah'd over how good it was.
Now that we're in the middle of a Whole30 challenge, I've tried my hand at making my own guacamole. I was shocked at how simple it was.
Homemade Guacamole
1 avocado – pit removed, peeled, and smashed
1/8 tsp. onion powder
1/4 tsp. garlic salt
a dash or two of red pepper
Smash the avocado flesh. I do this with a fork.
Add seasonings.
Mix well.
Yep. That's it. Easy peasy.
I'm sharing this post at:
:: Tip Me Tuesday hosted by Tip Junkie
:: Tasty Tuesday hosted by Balancing Beauty & Bedlam
:: Works for Me Wednesday hosted by We Are THAT Family
:: I'm Lovin' It Fridays hosted by Tidy Mom
:: Ultimate Recipe Swap hosted by Life As Mom
:: Finer Things Friday hosted by The Finer Things in Life
:: Chic & Crafty hosted by The Frugal Girls
:: Weekend Wrap Up Party hosted by Tater Tots & Jello
:: Pinterest Power Party hosted by Living on Love &  Cents