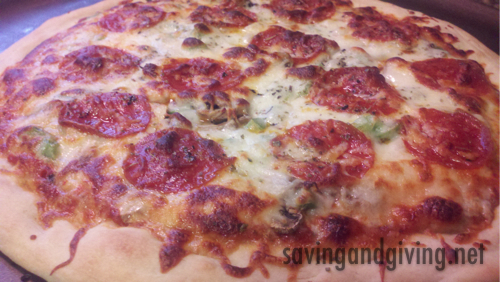 One of our worst menu plan wreckers is an unexpected schedule conflict. (Another is a mama who just doesn't feel like making the stir fry that's on the menu for the evening!) In anticipation of nights like these, I try to always keep on-hand the ingredients for our go-to meal…. homemade pizza. I've found three ways to make homemade pizza: fast, faster, and fastest. Below are my three variations. These have kept us from ordering pizza or hitting the drive-through many times!
Fast Pizza: Crust from Scratch
1 cup warm (not hot) water
1 T. bread machine yeast (It's cheaper than regular and works great!)
3 c. flour
2 T. olive oil
1 t. salt
1 t. sugar
Italian seasoning
When I have enough time, I like to mix all of these ingredients (minus the Italian seasoning) in my bread machine. The crust consistency is much better!  If I don't have time for the machine, here's the next best way.
Combine the warm water and yeast in a large bowl. Whisk until yeast is dissolved.
Add flour, oil, salt, and sugar. Mix well.
Set aside while you get pizza toppings ready.
Spray a pizza pan with olive oil cooking spray.
*Use a spatula to move dough to the center of your pan.
Spray hands with olive oil spray to keep dough from sticking.
Spread dough over pizza pan.
Add sauce, cheese, and toppings.
Sprinkle with Italian seasoning (not too much!).
Place pepperoni on top of cheese and toppings. (We've been using Kroger's turkey pepperoni.)
Bake at 475 degrees for 9-11 minutes or until cheese is browned.
I've been pre-baking our crust lately. I pop it in for 4-5 minutes while I finish chopping toppings. It seems to help the crust bake more evenly when I do this.
Faster Pizza: Pita Pizzas
Just use the pitas (uncut/unopened) as pizza shells, and add sauce and toppings.
Bake at 350 until cheese is melted and slightly browned.
You end up with personal pizzas that each family member can top as they like.
Bonus: Use whole wheat pitas for extra fiber.
Fastest Pizza: English Muffin Pizzas
Split the English Muffins, and add sauce and toppings.
Toast in a toaster oven until cheese is melted and slightly browned.

My family loves all three versions of our homemade pizza! I love them because I can choose whichever one fits our schedule (or my motivation level) on any given day.