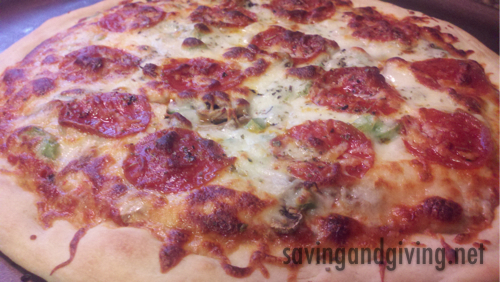 Pizza is a favorite food for lots of people. But it can be expensive to go out for pizza or even to order it in. Making your own pizza is a great way to save money and still enjoy a family favorite.
We've been making homemade pizza for a few years now, and let me tell you… It's been trial and error (lots of error!) all the way. I tried a few different crust recipes and have finally landed on Pioneer Woman's pizza crust recipe and used a little less water (between 1 c. and 1 1/4 c. depending on quickly I turn the faucet off). Regardless of the crust recipe you use, here are 6 tips to make your homemade pizza even better.
Make the crust smaller than you think it could be.
I have a round pizza pan. It has holes in the center to help with baking. I always think that my crust should extend past those holes. But I've learned that if I keep my pizza crust to around 12 inches, it doesn't get so thin that it's floppy. There's not much worse than floppy pizza.
Sprinkle a little bit of cheese before you add the toppings.
I don't know if the sauce just needs a barrier between it and the toppings or what, but the veggies seem to cook better when there's a thin layer of cheese between them and the sauce. I usually sprinkle a handful of shredded cheese over the whole pizza.
For the veggie toppings, think thin and small.
Now I'm not talking about minutely dicing your green peppers. But giant chunks of veggies won't cook well either. I like to cut my larger mushrooms in half and then slice them. I've also found that I'm sorely tempted toward veggie topping overkill. I'm guessing that's the mom in me wanting everyone to get a full serving of veggies from each slice of pizza. Unfortunately over-topping a pizza can lead to the top layer of cheese browning before the crust underneath is all the way done. Ask me how I know about that.
Try finely shredded cheese.
Okay so I totally learned this one by accident. I don't usually buy finely shredded cheese, but I bought it once by accident. I now love it because it melts quickly and really gets down into all the nooks and crannies created by the veggies. I think it melts more evenly. This could just be personal preference since I like my pizza cheese slightly browned. It seems like the finely shredded cheese melts quicker gets to that browning stage quicker.
You're not done when the pepperoni is added.
Sure, you could be done. But try this instead. Top each pepperoni slice with just a little bit of cheese. Then sprinkle the whole pizza with a bit of Italian seasoning. Don't go overboard the first time you try the Italian seasoning. It's better to add a little more next time than to have too much.
Special orders are just fine.
Our daughter doesn't like cooked mushrooms. She'll eat handfuls of them raw, but she thinks they're gross on pizza. So instead of having her pick off the mushrooms, we make a special order section. The tough part used to be remembering which part of the pizza was hers. Now we slice the crust before we bake it, marking the special order section. Then it's easy to find when the pizza is ready.
Do you have any other tips for better homemade pizza?