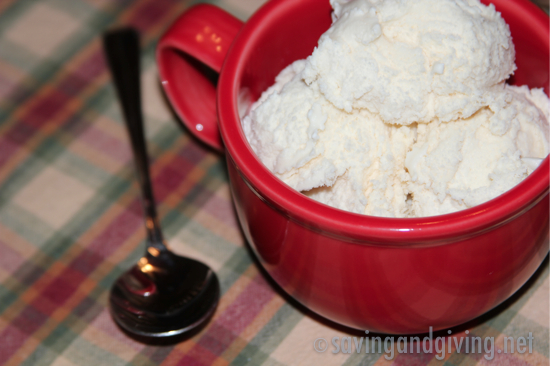 For the past month or so we've been making an effort to cut out the majority of the refined sugar that we were eating. Our original goals were leveling out blood sugar spikes, reducing inflammation, and just seeing if we felt better overall. The only problem… each of us has a sweet tooth, and giving up sweets didn't sound all that fun. So I set out to figure out how to make them without the refined sugar.
A few months ago I picked up a bottle of agave nectar and did a little research. What I read said that agave is less processed than regular white sugar, and it is considered a very low glycemic sugar alternative.  (It doesn't make your blood sugar levels spike like regular sugar does.) I started trying it as a sugar replacement in my recipes. It's worked one-for-one in some recipes, and I've had to adjust amounts in other recipes. It's really a work in progress.
One of the things I wanted to make was homemade ice cream. We have an ice cream maker, but we hadn't used it since we started watching our sugar intake. I was afraid that the agave might make the ice cream too thin, but I was happily proved wrong. The first time, we ate it at a soft-serve consistency right after it was done in the machine. The second time, we popped it in the freezer for a few hours and ate it once it was thicker. It was delicious both ways!
I've always thought homemade ice cream was hard to make, but it's SO quick and easy.
Homemade Vanilla Ice Cream with Agave
Ingredients:
1 cup whole milk
1/2 cup agave nectar (light) or honey
2 cups heavy cream (whipping cream)
1 Tbs. pure vanilla extract (not artificial)
a pinch of salt
Directions:
In a mixing bowl (not the freezer container), whisk together the ingredients.
Cover and place in the refrigerator for a couple of hours or overnight. I've skipped this step and popped it straight into the ice cream maker when I was in a hurry. The ice cream is a little thicker when you refrigerate first.
Follow the directions for your ice cream maker.
We're planning to try mixing bananas, mangoes, and some other fruits into future batches. I'll probably reduce the agave when we do that since the fruit is already sweet.
We have the Cuisinart ICE-21 Frozen Yogurt-Ice Cream & Sorbet Maker, White
that Amazon carries. I'm thinking about getting one more Cuisinart 1-1/2-Quart Freezer Bowl
for those times when we want to make back-to-back batches for a larger group.
Note: I am not posting this to debate the healthiness of agave vs. stevia vs. other natural sweeteners. This is a baby step for our family. I'm sure that everyone has their own sweetener preferences. I just wanted to share this recipe success with you.