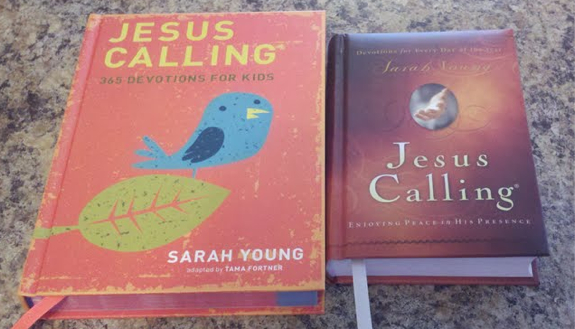 These two books have started living in our kitchen. If you're not familiar with the Jesus Calling books, they're Scriptures and words (based on Scriptures) that offer reassurance, comfort, and hope. Each day is written as if Jesus Himself were speaking directly to you. He is… if we're willing to listen.
Of course, my silly daughter and husband have taken to putting one of the books up to their ear and making a ringing phone sound. "Hey, it's for you. It's Jesus calling." Yes, this is my life. 😉
Today I opened the Jesus Calling (adult version) book and read about how we handle problems. Here's an excerpt from today's reading:
"You are surrounded by a sea of problems, but you are face to Face with Me, your Peace. As long as you focus on Me, you are safe. If you gaze too long at the myriad problems around you, you will sink under the weight of your burdens. When you start to sink, simply call out 'Help me, Jesus!' and I will lift you up."

"I am always beside you, helping you face today's waves. The future is a phantom, seeking to spook you. Laugh at the future! Stay close to Me."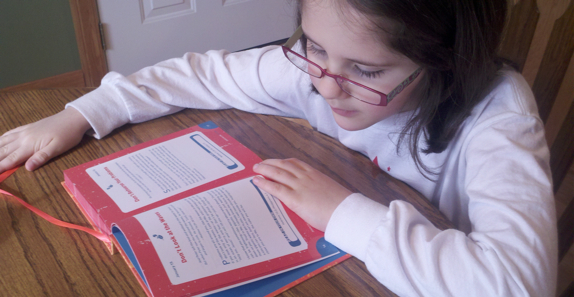 What I've really enjoyed about these two books so far is that Emma's version (the kid version) follows the same daily themes that our version does. Each day, we're reading about the same topics. We can talk about what our books said and be on the same page. Today, Emma's book said this:
"If you look only at the waves – at the problems – you will sink in an ocean of worry and fear. Don't be afraid. Simply call out, 'Help me, Jesus!' and I will lift you up – just as I did Peter."
That's not the whole reading, but you can see how closely aligned they are. Plus each day's reading has a main Scripture at the top and a list of Read on Your Own Scriptures at the bottom.
Want a daily dose of Jesus Calling?
One Simple Pen reader will win a pair of Jesus Calling books, one for grown-ups and one for kids.
How to enter? Just leave a comment on this post.
Entries will remain open until Monday, January 21 at 9 p.m. EST. One winner (US address only) will be randomly chosen. The winner will be emailed and will have 48 hours to respond. If there is no response, a new winner will be chosen.