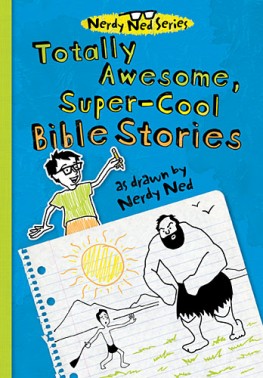 Okay I laughed. Hard. And showed my husband who also laughed.
We agreed. Nerdy Ned rocks.
Nerdy Ned is a Wimpy-Kid-style character who's drawing his way through the Bible in Totally Awesome, Super-Cool Bible Stories. He shows John the Baptist (who needs a fashion makeover) eating locusts (that are Locust-a-Licious!) and Moses floating in the basket with a disclaimer for kids to not try this with their little brother or sister. See Ned's smart like that too.
Ned brings it home when he talks about his superpower:
I dream all the time about what kind of superpower I, Ned Wiley, would like to have if I were given the chance to fight the forces of darkness on earth. But when I think about all of the coolest ones – flying, being invisible, being made of steel – none of those is nearly as cool as the ultimate superpower designed by God: walking with the Holy Spirit.
Written in the popular sketch comic art style, Totally Awesome, Super-Cool Bible Stories is geared for kids ages 6-10. It would definitely appeal to reluctant readers. The fun images and the engaging stories will draw them in. There are even doodle pages scattered through the book, encouraging kids to participate with drawings of their own.
You can check out the flipbook here for some sample pages. I'm thinking this would make a fantastic stocking stuffer!
One Simple Pen reader will win a copy of Totally Awesome, Super-Cool Bible Stories. Want to win? Just leave a comment on this post telling us who you would share the book with.
Entries will remain open until Sunday, December 9, 2012 at 9 p.m. EST. One winner (US address only) will be randomly chosen. The winner will be emailed and will have 48 hours to respond. If there is no response, a new winner will be chosen.