I participated in a Blog Blast program on behalf of Mom Central Consulting for Kidoodle.TV. I received a promotional item and a free trial as a thank you for participating.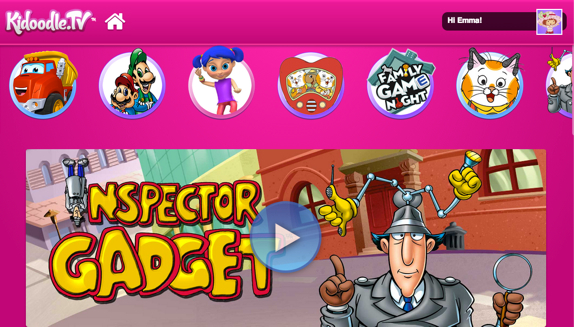 Now that the kids are on Christmas vacation, are you hearing that dreaded phrase? You know the one….
"I'm BORED!"
We usually allow a little extra screen time when we're not doing homeschool, so I was thrilled to find Kidoodle.tv. Kidoodle.tv is stocked with great shows just for kids. For a family without cable, this is a gold mine!
I just set up a Kidoodle.tv account for Emma. I was able to choose from a bunch of kid-friendly TV shows, either allowing or denying access to each one. The best part is that when Emma logs in, she only sees the show options I allowed. She doesn't even know about the ones that I denied. She's thrilled to have some new shows to watch, and I'm thrilled that she's watching things that I pre-approved.
If you have more than one kiddo, you can create a profile for each one of them, allowing age-appropriate shows for each child. When they log in, kids can click their profile and begin watching. Easy peasy.  There are also no ads!
Through the end of December, you can sign up for a free Kidoodle.tv account. If you sign up for a free account, you'll also be entered to win 1 of 10 tablets or 1 of 10 Kidoodle.TV year-long subscriptions. To enter, just click here and sign up for a free Kidoodle.tv account. You can also stay up-to-date by following Kidoodle.tv on Twitter or Facebook.