I love it when popular Christian authors make the first book in a series as a free Kindle book! Here are a few like that. 🙂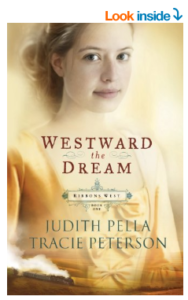 Westward the Dream by Judith Pella
As the U.S. descends into the Civil War, photographer Brenton Baldwin travels west with his sister Jordana, taking pictures of the developing lands and in search of their sister. Along for the trip is young Caitlan O'Connor, who has just arrived from Ireland. Will they make it to California to find their family despite the danger that looms ahead? And can early romance grow into love in the face of trials and tragedy? Click here to download.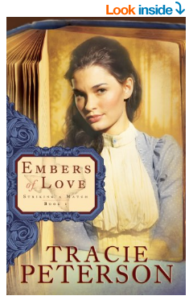 Embers of Love by Tracie Peterson
The logging industry in eastern Texas is booming, and Deborah Vandermark plans to assist her family's business now that she's completed college. Unexpectedly, her best friend, Lizzie Decker, accompanies her back home–fleeing a wedding and groom she has no interest in. Deborah, the determined matchmaker, puts her sights on uniting her brother and dear friend in a true love match.
Deborah soon meets Dr. Christopher Clayton, a much-needed addition to the town. As their lives intersect, Deborah realizes that she has a much greater interest in medicine and science than the bookkeeping she was trained in. But when typhoid begins to spread and Lizzie's jilted fiance returns, Deborah wonders if true love can overcome such obstacles…for those dearest to her, and for herself. Click here to download.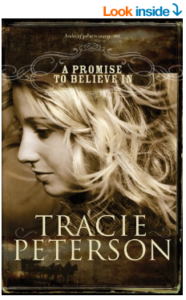 A Promise to Believe In by Tracie Peterson
Gwen, Beth, and Lacy Gallatin fashion a life for themselves in the Montana wilds, operating a roadhouse that is located at the crossroads of two major stage lines. When their father is accidentally killed, the oldest sister, Gwen, reasons that she's cursed. After all, death seems to haunt her: her mother, now her father…and she was married for a mere ten days before her husband died from a bout of measles.
As Gwen and her sisters struggle to maintain the inn on their own, an unexpected visitor adds to the mayhem. Hank Bishop claims to be searching for something in the possession of Gwen's late husband. But mayhem of another sort builds in Gwen's heart as she finds a growing attraction to this man. Can she dare to hope that love might again be hers? Click here to download.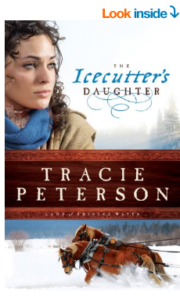 The Icecutter's Daughter by Tracie Peterson
Merrill Krause longs for a family of her own, but she's bound by a promise to her dying mother to care for her father and older brothers until they no longer need her. She enjoys being part of the family business, harvesting ice during the brutal Minnesota winters. Merrill actively takes part, possessing a keen ability to work with the horses–despite the advice of her good friend, who disapproves of her unladylike behavior.
When Rurik Jorgenson arrives in their small town to join his uncle doing carpentry, he soon crosses paths with Merrill. But unlike other men, who are often frightened away by her older brothers, Rurik isn't intimidated by them or by Merrill's strength and lack of femininity. As he thrives under the mentorship of his uncle, Rurik dreams of inheriting the business and claiming Merrill as his wife. But while he is determined to start a new life, the past is determined to follow him when his former fiancee and her brother show up in town. Soon Rurik is put in the center of a major scandal that may damage his relationship with Merrill. Can they learn to trust God–and each other–and embrace the promise of love? Click here to download.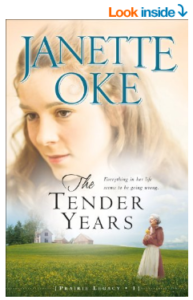 The Tender Years by Janette Oke
Continuing the story from Love Comes Softly, the granddaughter of the Davis's experiences a tragedy, she has a crisis of faith. Click here to download.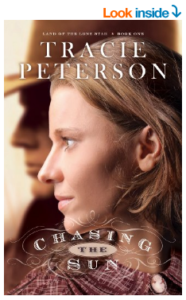 Chasing the Sun by Tracie Peterson
When her father disappears in war-torn Mississippi, Hannah Dandridge finds herself responsible not only for her younger siblings but for the ranch her father recently acquired on the Texas plains. Though a marriage of convenience could ease her predicament, she determines to trust God for direction.
Wounded soldier William Barnett returns to his home only to discover that his family's ranch has been seized. Though angry and bitter at this turn of events, he's surprised to discover that it is a beautiful young woman with amazing fortitude who is struggling to keep the place running.
Hannah, desperate for help, and William, desperate to regain his family's land, form an uneasy truce. But nearby Comanche tribes, the arrival of Confederate soldiers, and a persistent suitor all threaten the growing attraction that builds between them. Will they be able to set aside their own dreams and embrace the promise of a future together? Click here to download.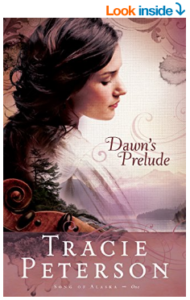 Dawn's Prelude by Tracie Peterson
Newly widowed Lydia Sellers discovers that through an unforeseen fluke, she is the sole recipient of her husband's fortune. But instead of granting her security, it only causes strife as her adult stepchildren battle to regain the inheritance for themselves. Lydia, longing to put the memories of her painful marriage behind her, determines to travel to Alaska to join her aunt.
Lydia's arrival in Sitka, however, brings two things she didn't expect. One is the acquaintance of Kjell Bjorklund, the handsome owner of the sawmill. Second is the discovery that she is pregnant with her dead husband's child. What will this mean for her budding relationship with Kjell? And what lengths will her stepchildren go to reclaim their father's fortune? Lydia soon finds her life–and that of her child's–on the line. Click here to download.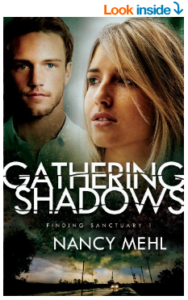 Gathering Shadows by Nancy Mehl
Wynter Evans is a promising young reporter for a television station in St. Louis, but even a bright future doesn't take away her pain over the disappearance of her brother nine years ago. So when she stumbles across a photograph of a boy with an eerie resemblance to him, she can't pass up the chance to track him down. With research for work as her cover, she sets out with one of the station's photogs for the place where the picture was taken: the town of Sanctuary.
Almost as soon as she arrives, she meets the town's handsome young mayor, Rueben King, and together they begin to uncover long held secrets that could tear the small town apart and change everything Wynter thought she knew about her life. As the truth of her family's past hides in the shadows, it's clear someone will stop at nothing to keep the answers she's searching for hidden forever–even if the cost is Wynter's very life. Click here to download.
Remember, you don't have to have a Kindle to read these. You can read them on your computer, iPhone, BlackBerry, iPad, Droid, or Windows phone. Amazon changes prices quickly, so if you want these free books, be sure to grab them now. I haven't read all of these, so I'm not personally recommending them. I just wanted to let you know that they were available for free. You can find more free eBooks here.