It's been a while since I've shared any free Kindle books. When I looked today, I found a bunch! So here's to some summer Kindle reading! 🙂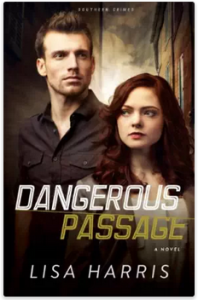 Dangerous Passage (Southern Crimes Book #1): A Novel
When two Jane Does are killed on the outskirts of Atlanta, Georgia, detective and behavioral specialist Avery North discovers they share something in common–a magnolia tattoo on their shoulders. Suspecting a serial killer, Avery joins forces with medical examiner Jackson Bryant to solve the crimes and prevent another murder. As they venture deep into a sinister criminal world, Avery and Jackson are taken to the very edge of their abilities–and their hearts.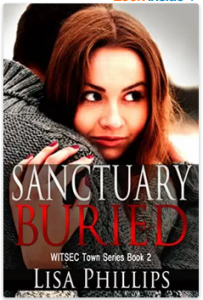 Sanctuary Buried (WITSEC Town Series Book 2)
Eight years ago Francesca Canetti testified against her father—the head of a mafia crime family.
Now she's Frannie Peters, running a bakery in the witness protection town of Sanctuary. Her former-starlet mom and her younger sister mooch off all her hard work, her best employee has terminal cancer, the town's mafia crew insists she's one of them and her love life is so non-existent it isn't even funny. Dare she try and unearth a better life?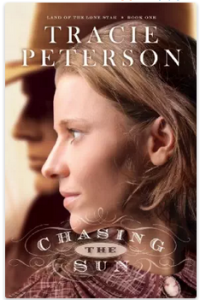 Chasing the Sun (Land of the Lone Star Book #1)
When her father disappears in war-torn Mississippi, Hannah Dandridge finds herself responsible not only for her younger siblings but also for the Texas ranch her father recently acquired. A marriage of convenience could ease her predicament… but is it the true desire of her heart?
Wounded soldier William Barnett returns home only to find out that his family's ranch has been seized. Though angered at this turn of events, he's surprised to discover that it is a beautiful young woman with amazing fortitude who is struggling to keep the place running.
Despite these circumstances, Hannah and William form an uneasy truce… and an undeniable attraction builds between them.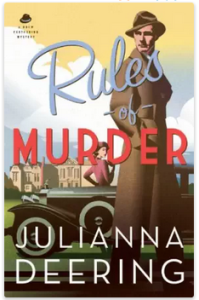 Rules of Murder (A Drew Farthering Mystery Book #1)
From The Tip of his black Homburg to the crease in his stylish cheviot trousers, he's the epitome of a stylish 1930s English gentleman. His only problem? The body he just discovered.
Drew Farthering loves a good mystery, although he generally expects to find it in the pages of a novel, not on the grounds of his country estate.
With the help of beautiful and whip-smart Madeline Parker, a guest from America, Drew proposes to use the lessons he's learned reading his mysteries to solve the crime. Before long, he realizes this is no lark, and no one at Farthering Place is who he or she appears to be–not the butler nor blackmailer, the chauffeur nor embezzler. Trying hard to remain one step ahead of the killer–and trying harder to impress Madeline–Drew must decide how far to take this dangerous game.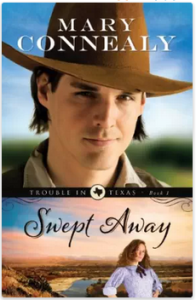 Swept Away (Trouble in Texas Book #1)
Swept away when her wagon train attempts a difficult river crossing, Ruthy MacNeil isn't terribly upset at being separated from the family who raised her. All they've ever done is work her to the bone. Alive but disoriented, she's rescued by Luke Stone…so unfortunately, there are more chances to die in her immediate future.
Luke is on a mission to reclaim the ranch stolen from his family. But the men currently on the property won't let it go without a fight. Luke plans to meet up with friends who will help him take back the land, and since he can't just leave Ruthy in the middle of nowhere, she's going to have to go with him.
But the more time Luke spends around the hardworking young woman, the more he finds himself thinking of things besides revenge. Will Ruthy convince him to give up his destructive path?
Remember, you don't have to have a Kindle to read these. You can read them on your computer, iPhone, BlackBerry, iPad, Droid, or Windows 7 phone. Amazon changes prices quickly, so if you want these free books, be sure to grab them now. I haven't read any of these, so I'm not personally recommending them. I just wanted to let you know that they were available for free. You can find more free eBooks here.