It's been quite a while since I've shared any free Kindle books with you. Maybe that's because I've been up to my eyeballs in books about the Civil War so that I can read them with Emma as part of our unit study! But I do like to stock up on free Kindle books so I have them for those free moments when I'm ready to lose myself in a good story! Here's what I found today.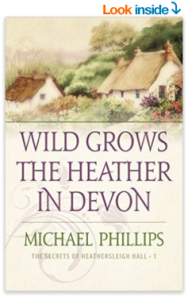 Wild Grows the Heather in Devon
Among the gently rolling Devonshire downs of southwest England, the Rutherford family leads a peaceful and privileged life at Heathersleigh Hallthe elegant country estate outside the picturesque village of Milverscombe. Charles and Jocelyn Rutherford consider themselves a thoroughly modern couple, teaching their children to throw off the restrictions of a society long steeped in tradition.
A rising political star in Parliament, Charles spends his weekdays in London, engaged in moving England forward into the twentieth century, while Jocelyn remains at Heathersleigh Hall with her children, secluded from the prying eyes of London society.
But there are secrets beneath this prosperous and contented life. Despite their carefully constructed layers of protection, the Rutherfords are about to be set on a journey of truth that will change them in ways they never could have imagined.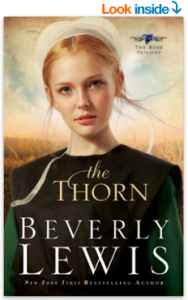 Lancaster County, with its rolling meadows and secret byways, may seem idyllic, but it is not without its thorns. THE ROSE TRILOGY is the stirring saga of two Amish sisters on the fringes of the church, and the unforeseen discoveries that change their lives.
Rose Kauffman, a spirited young woman, has a close friendship with the bishop's foster son. Nick dresses Plain and works hard but stirs up plenty of trouble too. Rose's sister cautions her against becoming too involved, but Rose is being courted by a good, Amish fellow, so dismisses the warnings. Meanwhile, Rose keeps house for an English widower but is startled when he forbids her to ever go upstairs. What is the man hiding?
Rose's older sister, Hen, knows more than she should about falling for the wrong man. Unable to abandon her Amish ways, Hen is soon separated from her very modern husband. Mattie, their young daughter, must visit her father regularly, but Hen demands she wear Amish attire–and speak Pennsylvania Dutch, despite her husband's wishes. Will Hen be able to reestablish her place among the People she abandoned? And will she be able to convince Rose to steer clear of rogue neighbor Nick?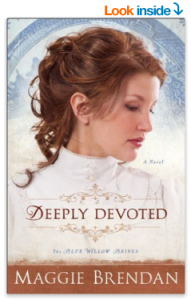 When Catharine Olsen leaves Holland for Wyoming as a mail-order bride, she brings some extra baggage with her: two sisters, her mother's set of Blue Willow china, and a tragic past. As she steps off the train, Peter Andersen is glad to see that she is everything her letters showed her to be. But he is a bit perturbed by her unexpected companions. How will he support them all? And what other secrets might Catharine be keeping from him?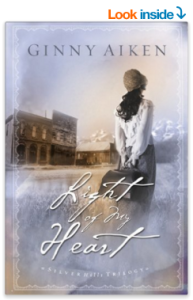 As 1892 draws to a close, Dr. Letitia Morgan boards a train in Philadelphia headed for Hartville, Colorado. The young town's booming silver mine has attracted so many people that Hartville is in need of a new doctor to treat women and children. Letty jumps at the chance to start a new life where she'll be appreciated as a medical professional-despite the fact she's a woman.
But as she gets to know more about this bustling town, Letty realizes that perhaps she's bitten off more than she can chew. Armed with determination and her trunks of medical supplies, she buckles down to minister to the wayward children of the town drunk, girls caught in Hartville's thriving brothels, and a newspaperman broken by the loss of his young wife.
But not everyone warms to the lovely new physician, and Letty finds herself the target of vicious attacks. When she is thrust into a confrontation over the fate of three orphans, her life will never be quite the same.
Remember, you don't have to have a Kindle to read these. You can read them on your computer, iPhone, BlackBerry, iPad, Droid, or Windows 7 phone. Amazon changes prices quickly, so if you want these free books, be sure to grab them now. I haven't read any of these, so I'm not personally recommending them. I just wanted to let you know that they were available for free. You can find more free eBooks here.