Here are two more free Kindle eBooks for you.
Accidentally Amish (Valley of Choice Book 1)
Escape the helter-skelter of the modern culture and join software creator Annie Friesen, hiding at the home of an Amishman. With her high-tech career in jeopardy, Annie runs from fast-paced Colorado Springs—and straight into the hospitality of San Luis Valley's Amish community. There she meets cabinetmaker Rufus Beiler, and the more time she spends with him, the more attracted she becomes. When Annie finds she shares a common ancestor with Rufus, she feels both cultures colliding within her. But is her love for Rufus strong enough for her to give up the only life she's ever known?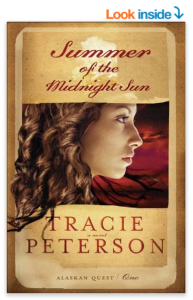 Summer of the Midnight Sun (Alaskan Quest Book #1)
Leah Barringer and her brother, Jacob, have come to love the rugged Alaskan Territory they call home.
But when Jacob determines to join an arctic expedition, Leah realizes her heart yearns for more than this solitary existence.
The unexpected arrival of Jayce Kincaide, the man who spurned her ten years before, awakens feelings that Leah would much prefer to leave buried. As Jayce sets out to prove he's a changed man, Leah cannot deny the effect he once again has upon her. But the appearance of a young investigator casts a cloud over Jayce's past…and over Leah's dreams for the future.
Remember, you don't have to have a Kindle to read these. You can read them on your computer, iPhone, BlackBerry, iPad, Droid, or Windows 7 phone. Amazon changes prices quickly, so if you want these free books, be sure to grab them now. I haven't read any of these, so I'm not personally recommending them. I just wanted to let you know that they were available for free. You can find more free eBooks here.