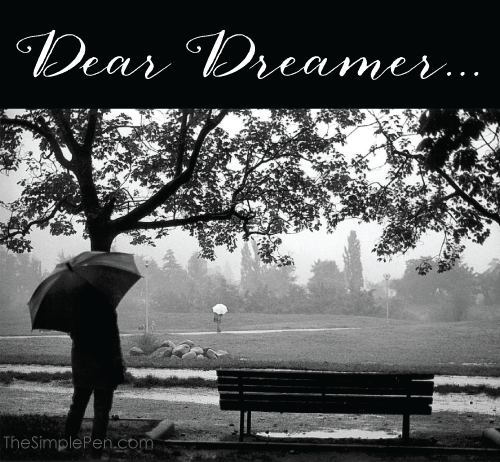 photo credit
Dear Dreamer Friend,
Yes, you. The one with the dream that's simmering just below the surface. The one who's afraid to speak that dream out loud because you're not even sure exactly what it will look like if it truly comes to be. I know you. Most days I'm right there with you.
But yet we were made to dream. So embrace it and dream! But along the way….
You're going to have days when you question your dream.
You're going to think it's not good enough, not big enough, not GOD enough. But you know what? If it's the dream that God placed on your heart, then it's the perfect dream for you. It's great enough, big enough, God enough.
Other days you'll compare yourself and your dream to other people and their dreams.
Theirs look so much better! But remember, there's always someone looking at you thinking that your dream is looking so much better than theirs. Comparison is an ugly monster that we all battle. Just stay in the fight. Seek Him and His plan for your dream, and you'll know that you're on the perfect path.
Then come the days when you're ready to throw in the towel.
You wonder if you can really do this today… or ever. It just doesn't feel possible. But hang on, sweet dreamer. It's in the impossible that God's power can shine through.
Jesus looked at them and said, "With man this is impossible, but with God all things are possible." ~ Matthew 19:25-27
Just be willing to let go of you and cling to Him. Then, when the beautiful successes come, you can give credit where credit is due.
"It's not about what you do as much as how you do it. It's about pursuing life with passion and purpose and going with God wherever he leads. It's about not settling. It's about tenaciously believe you're made for more." ~ Holley Gerth, You're Made for a God-Sized Dream
So what's your passion? What's your purpose? I know God has a plan for you. Do you realize it? Are you aching to find it?
For I know the plans I have for you," declares the Lord, "plans to prosper you and not to harm you, plans to give you hope and a future. ~ Jeremiah 29:10-12
I can't wait to see those plans play out as your dream is realized. Enjoy the journey. Learn from the twists in the road. And savor the sweet successes that are coming. Because they're definitely coming.
________________________
Need some inspiration or encouragement as you pursue your dream? You must, must, must pick up a copy of Holley's new book You're Made for a God-Sized Dream.