The following is a guest post by my friend Kelly from Kansas City Mamas. I had the privilege of meeting Kelly in real life at the Savvy Blogging Summit in July, and she is as genuine as they come!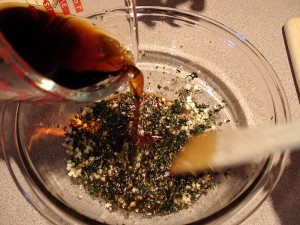 I love marinades. And I use them often.
To me a marinade is meat's little  helper. It can take a budget-conscious piece of meat and change it from ordinary to extraordinary. This week I took stew meat, marinaded it, and used it for kabobs.
How long did I marinade it?
Three days.
But, it was juicy and tender and the family loved it. (And some days that is saying a LOT.)
A marinade is basically a tenderizer and a flavor enhancer. It is usually a mix of an acid, an emollient, and spices.
Examples of acids are vinegar, cooking sherry, or wine (my favorite).
Examples of emollients are oils or the fat on a particular cut of meat.
You need all three (acid, emollient and spice) to make a rockin' marinade. Skimp on any one and you'll have meat that tastes good, but chews like leather. Or meat that is tender, but doesn't taste like anything.
I prefer to make my marinades from scratch. It allows me control over the ingredients and the flavors. (And it is cheaper.) But if you haven't ever made marinades before, it can be intimidating, so here are my "best of" tips.
Tips for Marinades:
Use fresh, quality ingredients when possible. Fresh lemon or lime juice and herbs make a BIG difference in the taste of your marinade.

Make sure to mix your marinade well. I usually make mine in a separate bowl and mix with a wisp.

Use a Ziploc bag. Put your meat in a Ziploc bag and then pour in the marinade. Seal and give a little shake. Using a Ziploc allows more coverage on the meat.

Marinade at least 12 hours (sometimes up to 36 hours). Longer is better in my opinion. Make marinades in the evening and put in the fridge overnight .
Also, if you are beginning to use marinades, you may not be sure what ingredients will taste like what…so I've provided three of my favorite marinades. One for beef, chicken, and pork. Enjoy and remember – don't be afraid to marinade your meat. Longer is always better – in my opinion.
Red Wine Steak Marinade
1 cup of red wine
1/4 cup soy sauce
1/4 cup vegetable oil
1 teaspoon seasoned salt – like Lawry's
1 teaspoon pepper
1 teaspoon oregano
1 clove of garlic – chopped
Combine all ingredients in a bowl and mix well. Marinade will cover 2 lbs. of steak.
Ginger Pork Marinade
1.5 teaspoons of fresh ginger
1′/4 teaspoon crushed red pepper
1/3 cup honey
3 tablespoons sesame oil
1/3 cup soy sauce
1 jalapeno pepper – seeded and chopped
Combine all ingredients in a bowl and mix well. Marinade will cover 4-5 pork chops.
John Stamos Greek Chicken Marinade
1 cup of olive oil
1/4 cup of white wine
3 tablespoons fresh lemon juice
6 cloves of garlic – chopped
1 tablespoon oregano
1 tsp salt
Combine all ingredients in a bowl and mix well. Marinade will cover 3 lbs. of chicken.
PS: Just realized that two out of three marinades include wine…maybe that is why they are so good.
Kelly Snyder is the author of Kansas City Mamas – a website devoted to living well by saving more. She is married to her best friend (Hubs) and is the stay-at-home mama to DS (7) and DD (5). In addition, she believes that life is too short for bad coffee, wine or food (but not necessarily in that order).