The Saturday before Christmas started out like any other day. But it certainly didn't say that way. Instead of a lazy morning at home, we told Emma that we had some errands to run. Since it was raining, they dropped me off to run into Walmart. She thought I was stopping to pick up some last-minute gifts. I guess you could say I was since my main objective was to get a dog collar (which I promptly hid in my purse after paying for it).
When we left Walmart, we told Emma that we needed to go and pick up her big Christmas gift. It was something that just couldn't be wrapped. Did she mind if we took her with us? And was it okay if we just gave it to her early? Of course she didn't mind going AND getting it early. So off we went into the rainy day.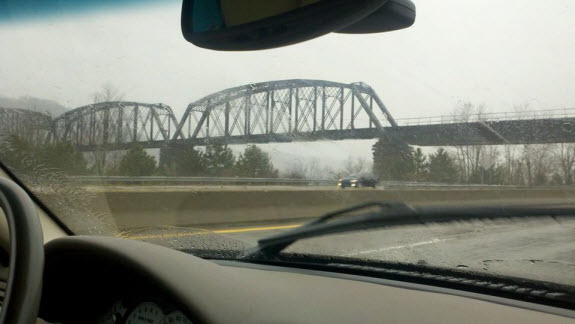 Along the way, we gave her a few clues. We told her that we had to go into West Virginia to get it. She had to eat an early lunch before we picked it up, because it would be impossible to eat afterwards. We had a ball just getting there.
And where were we going? I'm glad you asked…..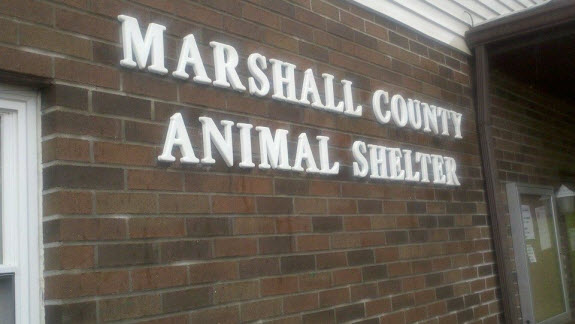 She was SOOOO excited when she saw where we were. She's been reading The Puppy Place series of books, so she knew that people often went to volunteer at animal shelters. She was SURE that we were there to pet the kittens and play with the puppies. And she was thrilled to be there to help!
When we went in, we took her in to see the cats. She moved from cage to cage talking to them and petting them. She loved it. Meanwhile, I snuck back to see if the puppy we had chosen the day before was all ready for us to pick up. She was, so I went back for Emma.
We introduced them in the lobby, and Emma was SHOCKED when we told her that this puppy was hers. To keep.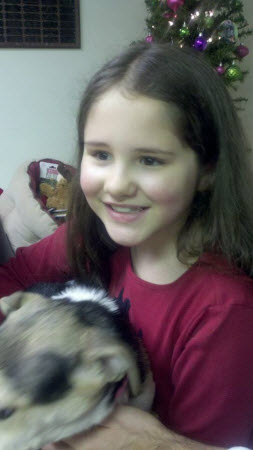 She immediately named the dog Mollie. We finished up the rest of the paperwork, put on the collar I'd picked up at Walmart, and headed for home. Mollie snuggled into the old blanket we had brought with us and slept most of the way home. I guess she was comfortable with us from the get-go.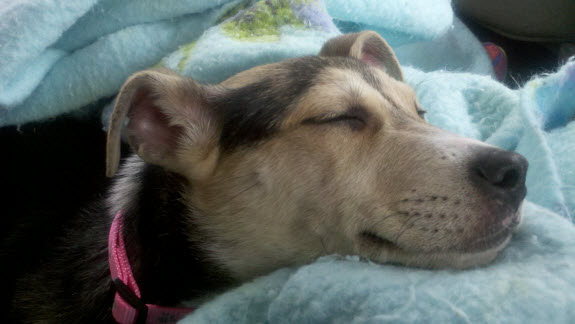 One of the things we love best about Mollie is how she's taken to Emma. They became instant friends.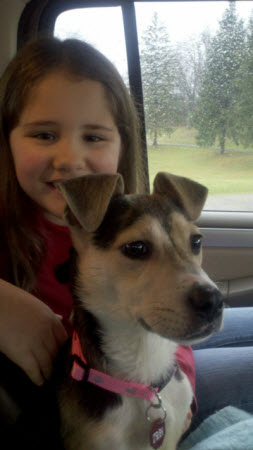 And did I mention that she's comfortable with us? Uhm… Maybe a little TOO comfortable??