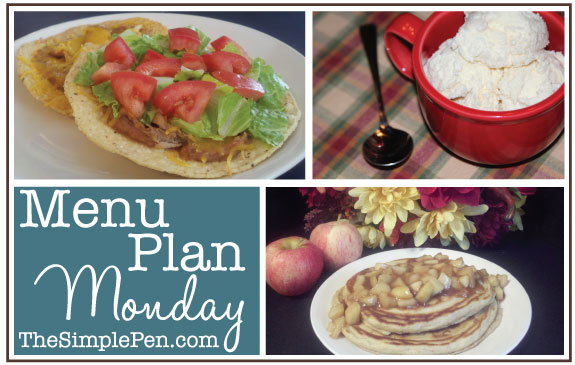 It's birthday party week around here. Our sweet Emma will be turning 8 later this month, and we're having the whole family over this coming Saturday for a birthday party to celebrate. Our week will be filled with party planning, decoration making, and house cleaning.
That doesn't leave a lot of time for deal with the What's for dinner question.
Hopefully having this plan in place will help curb the dinner chaos. Here's what's on the plan for us this week.
:: Breakfasts ::
Gingerbread Scones & Fruit
Cereal & Fruit
Eggs, Toast & Fruit
Fruit & Yogurt Parfaits
Homemade Granola
:: Lunches ::
Sandwiches & Veggie Plate
Muchy Lunch (popcorn, cheese, fruit, veggies)
Leftovers
Pizza
:: Dinners ::
Breakfast Fried Rice (based on this fried rice but with sausage)
Hubby's Scrambled Omelettes with Hash Browns
Easy Layered Mexican Pizza (but made with chicken)
Homemade Pizza
Broiled Fish, Pan-Fried Potatoes, Green Beans
Canned Soup & Grilled Cheese (for an extra-busy night we know is coming)
If you're looking for some general menu planning inspiration, stop by Menu Plan Monday hosted by I'm an Organizing Junkie.