I talked with an Office Depot representative who assured me that homeschool parents qualify for all of the teacher perks you're going to see here. So if you're a homeschooler, be sure to stop in, sign up for the Star Teacher Rewards program, and enjoy the Teacher Appreciation Event.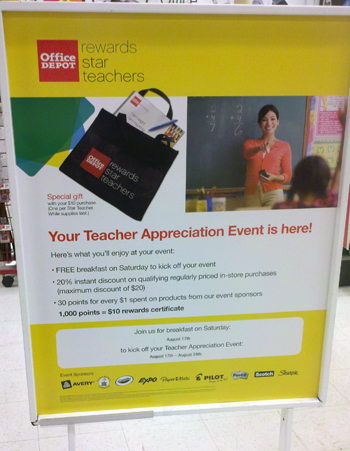 Three cheers for the Office Depot Teacher Appreciation Event! We were able to attend last weekend, and we had a ball. We stopped by the desk to register and got a nice Office Depot tote filled with coupons, a pen sample, and a planning book.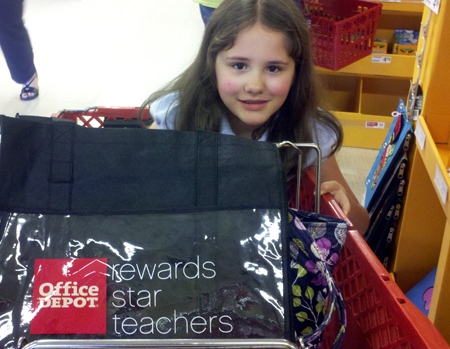 Then we headed back to the breakfast area. (After driving an hour, we had one little gal who was excited to see the breakfast area!)
Office Depot had put helpful literature out for teachers to take. They had also invited vendors from companies like Thirty-One, Mary Kay, HP, and some local photographers and jewelry-makers.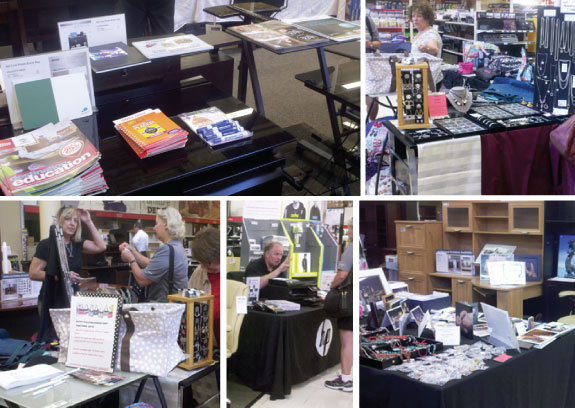 See, Office Depot GETS teachers. They know that teachers pour hours and dollars into making sure their students succeed. Did you know that teachers – 92% of them – spend an average of $1000 out-of-pocket each year for supplies? That's $1.3 billion spent nationally by teachers.
These Teacher Appreciation Events are Office Depot's way of celebrating teachers. At each Teacher Appreciation Event, teachers get a free breakfast to kick off the week, a tote bag full of goodies, a 20% discount on qualifying items, and 30 points for every $1 spent (instead of the typical 10 points per $1).
If you're a teacher or homeschooler, be sure to sign up for the Office Depot Star Teacher rewards program. You'll get personalized promotions, access to special in-store events, and pre-sale offers on new products.
If you're not a teacher or homeschooler, be sure to sign up for the Office Depot Rewards program. Not only do you get rewards when you shop, you can also send 5% of your total spending to the local school of your choice. Teachers can even register their supply lists and get 5% back when their students' parents get their supplies at Office Depot.
Be sure to click here to sign up for the Star Teacher Rewards program (for teachers/homeschoolers) or the Office Depot Rewards program (for families). Then head over to Office Depot to get your school supplies for the year. They have some amazing back-to-school sales going on!
Disclosure: I am participating in the #ODRewards campaign sponsored by Office Depot. For more information, about Office Depot Rewards, visit their website.