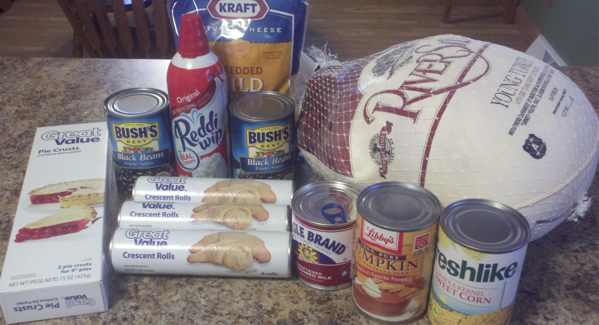 The holidays are coming quicker than we'd like to admit. And with the holiday season comes the added stress of shopping, food prep, and an overall busy time of year. One way to combat the stress is to have a list of go-to meals that are quick to prepare. There's nothing worse than realizing it's 5:00 and wondering what's for dinner.
We're going to be hosting my parents for dinner this weekend. Our weekend will be busy, so I want to try one of these dishes that doesn't take a ton of prep. In fact, I'm going to take a few shortcuts to help me get everything ready. One of them is to use Great Value refrigerated crescent rolls.
I'll be making these Southwest Turkey Cups for dinner. I love this dish because you can mix the meat, cheese, and veggies early and quickly assemble things just before cooking time. Plus they have protein, veggies, and fiber all in one dish. This is an excellent way to use your leftover Thanksgiving turkey.
Dinner isn't complete without dessert, right? Since we're having a turkey dish, I figured pumpkin pie should be on the menu. Instead of making a whole pie, I'm opting for single-serve pumpkin pies. I'm taking a shortcut on these too and using Great Value refrigerated pie crust. Pie crust is something I'm not good at making. So for time's sake and the sake of the people eating the pies, we'll trust Great Value with this one. 😉 I'm going to base my single-serve pies on this pumpkin pie recipe.
I was also eyeing the Great Value refrigerated biscuits. I didn't grab them this time, but I just might on my next Walmart trip. I think they'd be perfect for making these Monkey Bread Muffin Cups. (Yes, I'm all about the muffin-sized food right now. Strange but true.) I think I'm going to save those for Christmas morning.
I'll be back next week with the results of our get together and pictures of our Southwest Turkey Cups and mini pies.
Disclosure: This post is part of a campaign sponsored by Great Value and The Motherhood. You can find Great Value products at your local Walmart. All opinions are – as always – true and my own.