I participated in an Influencer Activation on behalf of Influence Central for Charmin. I received product samples and a promotional item to thank me for my participation.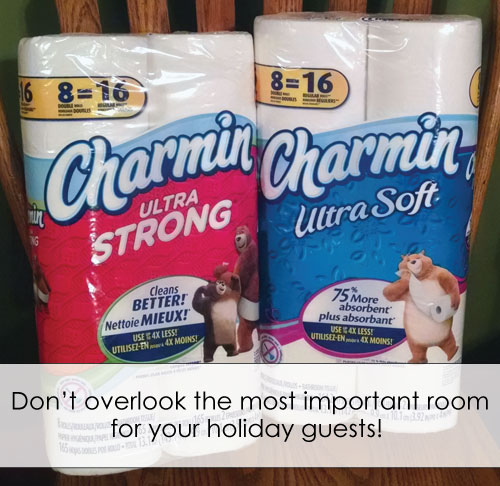 We've been talking about hospitality and how to make people feel welcome in our homes. With the holiday season upon us, it's time to think about some ways to make people feel truly at home when we host parties or overnight guests. One of my biggest goals is for people to have what they need without them having to ask. Here are a few examples.
Guest Bedroom
If you're having overnight guests, put a few special items in the bedroom they're using. I like to put out a bottle of water per person, a travel-sized toothpaste, and maybe even some snacks. (You never know when the midnight munchies will strike, and that can be awkward when it's not your house!)
Living Room
I want my guests to feel right at home. Having a basket full of blankets and a stash of throw pillows means that guests can stay warm and comfy.
Kitchen
The kitchen is the central location for activity when we have company. Our dining area is connected to the kitchen, and people just like to hang out there. I try to have some grab-and-go snacks available in the kitchen. That way, if people get hungry between meals, they don't have to ask. They can grab an apple from the fruit bowl, munch on a handful of nuts, or sneak a cookie.
Bathroom
The bathroom is one room that I definitely want well-stocked. There's nothing worse than someone needing supplies and finding them gone! Since we can go through a LOT of toilet paper when we have guests over, I like to use make sure we're using something that will last and something that won't clog the pipes. (Because NOTHING is more fun than searching for the plunger, right?)
Charmin to the Rescue!
We all know Charmin as a trusted brand that's been around for over 70 years. They've got a great track record — and a really cute mascot! Now Charmin and Roto-Rooter have teamed up to make sure that your plumbing stays clog-free, even during the busy holiday season. (Roto-Rooter plumbers recommend Charmin more than any other brand!) You can mark that worry off your list as you're planning your next get-together.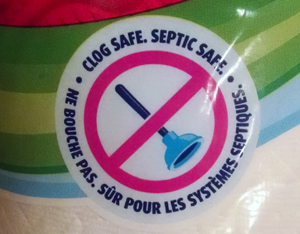 Charmin also gives you the options of Ultra Soft or Ultra Strong. That means that your holiday guests can use up to 4 times less paper. And that means that your supplies will hold out longer. Win!