I participated in an Influencer Activation on behalf of Influence Central for Softcard. I received a promotional item to thank me for my participation.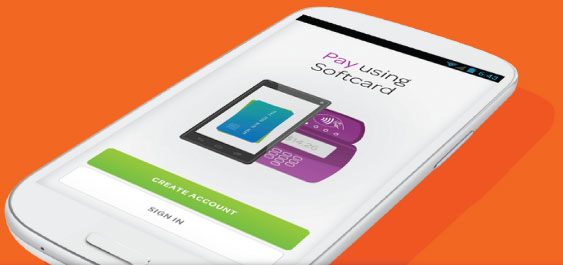 Please tell me that I'm not the only one who has run out to the store to grab something we need only to find that I left my wallet at home. Not only is that scenario frustrating, it's a huge time-waster!
I've heard about smartphone payment options before, but I've been hesitant to try them. Until now. I recently installed the Softcard app on my phone. It's the first one that I was comfortable trying, mainly because of the security options it offers.
What is Softcard?
Softcard is a free app that lets you pay using your Android or Windows phone. You can also save with special offers and store all of your store loyalty cards, membership cards, and reward cards. Instead of carrying around all those loyalty cards, just upload them to the app.  (Anyone else cheering for a lighter wallet!?) You can even check your balance for select loyalty programs.
With Softcard, you can store all of your credit cards to pay for purchases. You get all the benefits and protections you get with your physical card. So there's no risk to you. If you're not comfortable storing your credit card numbers with the app, you can even set up a prepaid account and add money to it with your card.
How Do You Use It?
Paying with Softcard is simple. You can see which retailers in your area participate with Softcard here. (Softcard is accepted at over 275,000 retailers, so odds are good that at least one of them is near you.) When you're ready to check out at a participating retailer, just look for this symbol.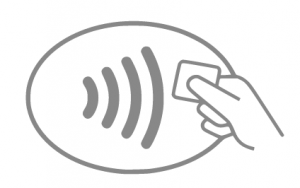 Softcard uses NFC (near field communication) technology to send payment info at checkout. You just choose the card you want to use and hold your phone up to the contactless payment symbol.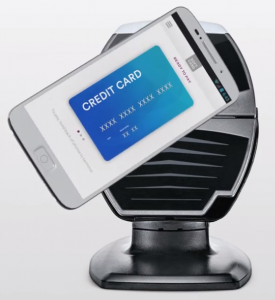 Of course you'll have to enter your PIN number for extra security. But if you're like me, you'll LIKE that part!
Special Offers
I was pleasantly surprised to find a special offer pop up on my phone after I installed the Softcard app. If I use Softcard to pay (with the same card) five times, I'll get a $10 Amazon gift card. There were also special offers for $10 off a $60 purchase at Toys 'R Us and percent-off offers for retailers like Wilson Leather, Carter's, DressBarn, American Eagle, and others.
My Take on Softcard
My biggest takeaway was how easy Softcard is to use. I don't need to dig through my purse to find my wallet. I don't have to sift through my wallet for my card. I can just grab my phone, enter my PIN, and pay. Done!
Meet Tappy
Of course no service is complete without a cute mascot, right? Meet Softcard's mascot, Tappy:
Check it Out
To learn more about Softcard and how it can work for you, visit the Softcard website or like Softcard on Facebook.