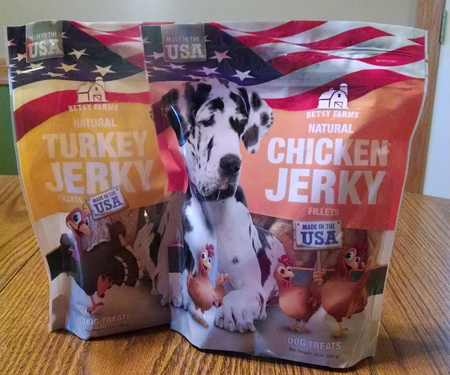 Raise your hand if you have a dog who LOVES treats! Raise your hand if you're a dog owner who LOVES to give your dog treats!
Now raise your hand if you've ever been concerned about the quality of those treats.
Ahh yes, that's where it gets tricky. As pet owners, we want to be sure that we're giving our dogs treats they love while keeping them healthy. After seeing so many news stories about quality and safety with multiple brands of imported dog treats, we were getting a little nervous about giving our dogs ANY treats.
That's why we were really excited to learn about Betsy Farms. Unlike most companies who import their ingredients or finished products, Betsy Farms makes all their products in the USA with ingredients sourced in the USA. I don't know about you, but my ears certainly perked up at the mention of Made in the USA.
Quality Comes 1st
Our company headquarters is located in beautiful Eagle, Idaho and dog jerky is produced at our manufacturing facility in Springville, Utah, employing a unique dual heating process that eliminates potentially harmful bacteria. We use real poultry, which is pulverized, mixed with other ingredients and cooked again. This helps assure product safety while avoiding the use of harmful ingredients. (From the Betsy Farms website)
Now that's a process that makes me feel better about treating our dogs. But the Betsy Farms jerky needed to pass the test with these two.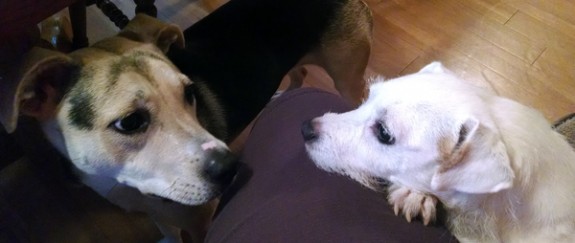 I thought it would be smart to try to get a picture of the jerky packages before I ripped them open. But as soon as these two got a whiff of the bags, they were relentless.
I'm pretty sure that Mollie was keeping one eye on me and one eye on those treat bags!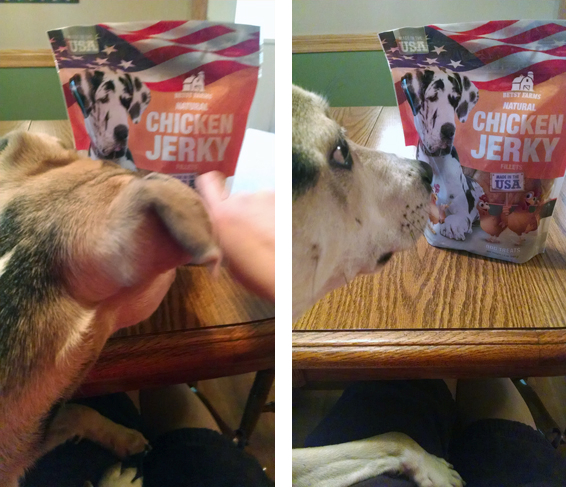 No, really. She REALLLLLLY wanted to make sure that those treats weren't going anywhere. Fortunately I did at least get one picture taken with her "help".
The verdict was unanimous. They've sampled the Betsy Farms chicken jerky and the turkey jerky, and they kept coming back for more. And more. And more. Until I had to put the bags away. Now they just go crazy whenever I open the cupboard.
That explains why all my pictures of giving the dogs turkey jerky now look like this….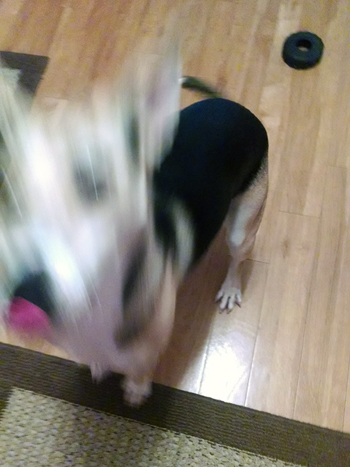 If you're a dog owner and you want to be sure that you're giving your pets quality treats that are made in the USA, be sure to check out the Betsy Farms turkey jerky, chicken jerky, and duck jerky. Click here for a store locator.
Disclosure: I received product samples and compensation in exchange for providing my feedback on this product. The opinions in this article – and crazy dog photos – are my own. I do not work for, or with, any brand mentioned in this article, nor do I have any official relationship with them. I have a relationship with GigaSavvy, for whom I create original editorial content.