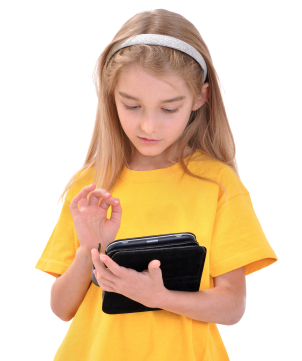 Do you realize that your kids have never known life without iPods, iPads, or Facebook? They're truly digital natives, living and breathing the technology that we've all worked hard to master (or at least muck our way through!).
I can't imagine being our Emma's age (8 years old) and having an iPod, two tablets, and access to the DVD player, computers, and smartphones. Need someone to troubleshoot the DVR? Just ask her. She's a whiz.
Part of me does backflips that she instantly adapts to new technology. The other part of me is scared to death. How will I keep up with her? How will I know what she's doing and who she's talking to? How can I manage the technology so it's not managing me!?
Raising Digital Families For Dummies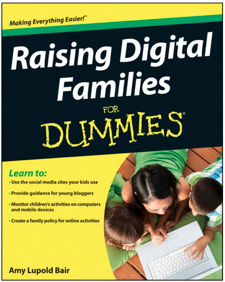 I love the For Dummies series. They put complex ideas into everyday language and make it much easier to understand & apply. I also love my friend Amy. She's joined forces with the For Dummies folks to write Raising Digital Families for Dummies.
As a mom of two, Amy GETS it. And she's put her know-how to work to help all of us. In her new book, she shares:
how to keep up with your kids' online and gadget activity.

how to manage mobile devices, social media, and the Internet.
advice for establishing family rules for technology use.
how to handle situations when the rules are broken (because we know they will be at some point!).
how deal with cyberbullies.
safe social networks for kids.
and TONS more.
We need help to keep up with our kids. Knowing that Amy shares my faith and my desire to keep kids safe online makes me listen closely to what she has to say. Her easy-to-follow writing style is just icing on the cake. 😉
Right now you can pre-order Raising Digital Families for Dummies for $13.40 (paperback version). It's going to be released on Monday (4/29) and available on Amazon on 5/2. Or if you'd rather get your hands on a copy RIGHTTHISVERYMINUTE (like me!!), you can get the Kindle version that's already available.
If you want to learn more about Raising Digital Families and chat it up about kids and technology, be sure to RSVP for Amy's Twitter party. On Monday, April 29 from 8:00 to 9:00 p.m. EST, we'll be chatting it up about family, technology, safety, and more. Plus Amy has some amazing prizes in store (Nintendo 3DS XL, Just Dance Disney Party, Build-a-Bear, and more). You can RSVP for the party here.