This post brought to you by BISSELL Homecare, Inc.. All opinions are 100% mine.
See this sweet little beast?
This is Lizzie. Her doggie superpower seems to be shedding.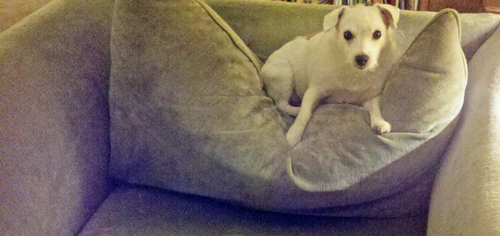 And most days, this is where we find her.
Let's just say that that makes wearing black shirts a real issue at our house.
We've been talking more about how to deal with the overabundance of dog hair that seems to find its way onto our furniture. Of course, keeping the dog off the furniture in the first place probably would've been the easy way to handle the whole matter. But she's an old dog. And you know what they say about old dogs. We really would have had to deal with that a long time ago.
So moving forward, we thought our best option might be to buy stock in a lint roller company. But we just heard about BISSEL PowerGlide Pet Vacuum with Lift-Off Technology.
If you check out the cleaning tips from BISSEL, you'll see how the PowerGlide Pet Vacuum has an easy-release portable vacuum built into it. The fact that there's no loss of suction and it's a sealed system means being able to vacuum the furniture so much better than just using regular attachments. Plus it includes a Pet TurboEraser Tool and crevice tool. With its long-strech hose and 27-foot cord, this thing was made to knock out the pet hair, no matter where it's hiding. It also means that Lizzie doesn't have to be banished to another room to keep the hair away.
Interested in making your cleaning life a bit easier? BISSELL is also sponsoring a giveaway on their Facebook page. You can enter to win by sharing how you would say hello to life if challenging carpet cleaning was a thing of the past.