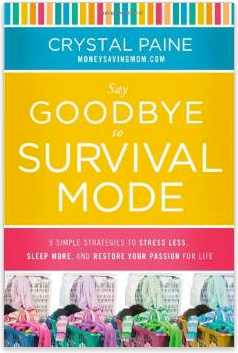 Do you wake up tired? Is your to-do list too long? Are your commitments piling up like last week's laundry? Are you just plain overwhelmed?
In Say Goodbye to Survival Mode, Crystal Paine (a.k.a. Money Saving Mom) shares her story of life getting out of control and the steps she took to reclaim it.
I bought the hardcover book a few months ago and have had it in my reading pile. I'm definitely looking forward to reading it. My goal is to de-stress my days and get life a little more under control.
If you don't have this book yet, you can get the Kindle version now through Saturday for $2.99. Just click here to get your copy.