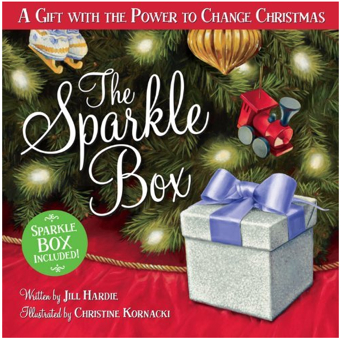 The Sparkle Box is a little book with the power to completely rock your Christmas season. I don't say that about too many things. But in a season where our focus jumps from the lights to the shopping to the wrapping to the baking to the visiting, this one little book is a powerful tool.
Sam is so excited about Christmas! He's thinking about his Christmas list, looking forward to holiday parties, and puzzling over one very mysterious gift: a sparkly box sitting on the mantel. In the midst of the festivities, Sam and his family participate in various acts of kindness to others.

On Christmas morning, when Sam finally opens the Sparkle Box, he finds only slips of paper that record the family's good deeds. Sam's mom explains that the things that they've been doing are, in fact, a gift for Jesus, for Jesus said that whatever we do for those in need, we do for Him.
Our Sparkle Box
We first learned about The Sparkle Box last Christmas. Emma discovered the sparkly silver box (that comes with the book) sitting on my desk. She immediately started asking questions.
Is there something inside?
What is it?
Is it for me?
Like Sam in the book, she was fascinated by the sparkle box. After reading the story, she grasped the idea that anything we do 'for the least of these' we do for Jesus.
Once again this year we'll keep our sparkle box in our living room. When we have a chance to drop off food for the food pantry or buy a gift for someone in need, we'll give that gift to Jesus by putting a slip of paper in the sparkle box. On Christmas morning, we can recap these gifts as our way of saying Happy Birthday to Jesus.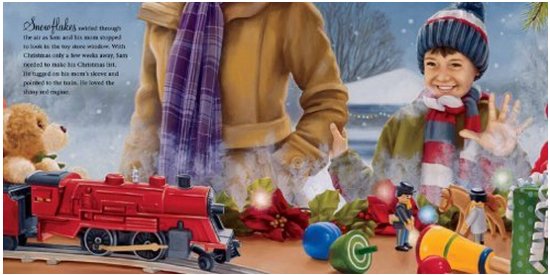 Want to join us?
You can buy your own copy of The Sparkle Box here. It comes with a fold-out sparkle box. You could also make your own sparkle box, allowing the kids to decorate it themselves.
You can also learn more about Jill Hardie, the author of The Sparkle Box, here or connect with Ideals Books on Facebook here.
The Giveaway
One Simple Pen reader is going to win a copy of The Sparkle Box. To enter, leave a comment on this post. Feel free to share a creative way that your family gives 'to the least of these' at Christmastime.
Entries will remain open until Tuesday, November 26, 2013 at 9 p.m. EST. One winner will be randomly chosen. The winner will be emailed and will have 48 hours to respond. If there is no response, a new winner will be chosen. U.S. addresses only please.
Disclosure: I received a copy of The Sparkle Box in exchange for hosting this giveaway. All opinions are – as always – honest and my own.