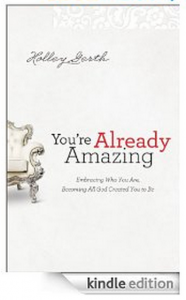 If you know Holley Gerth, you're going to want to snatch up a copy of her book You're Already Amazing. If you don't know Holley, this is the perfect time to meet her. Right now the Kindle version of You're Already Amazing is on sale for 99¢. That's 90% off the regular price! And while I like a good deal, I LOVE what Holley has to share.
If you're a woman who's felt the pressure to be perfect, to live up to the expectations of others (and yourself!), you need to read this book. In You're Already Amazing, Holley will help you understand and embrace the fact that you don't need to do more, be more, and have more–because you're already amazing just the way God created you to be.
Holley's writing reads like you're having a heart-to-heart chat over a cup of hot chocolate. I hope your heart is encouraged.
Click here to get You're Already Amazing.
Remember, you don't have to have a Kindle to read Kindle books. You can read them on your computer, iPhone, BlackBerry, iPad, Droid, or Windows 7 phone.