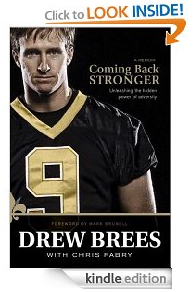 Coming Back Stronger: Unleashing the Hidden Power of Adversity
When a potentially career-ending shoulder injury left quarterback Drew Brees without a team—and facing the daunting task of having to learn to throw a football all over again—coaches around the NFL wondered, Will he ever come back? After Hurricane Katrina devastated New Orleans, leaving more than 80 percent of the city underwater, many wondered, Will the city ever come back? And with their stadium transformed into a makeshift refugee camp, forcing the Saints to play their entire 2005 season on the road, people questioned, Will the Saints ever come back? It takes a special person to turn adversity into success and despair into hope—yet that is exactly what Super Bowl MVP Drew Brees has done—and with the weight of an entire city on his shoulders. Coming Back Stronger is the ultimate comeback story, not only of one of the NFL's top quarterbacks, but also of a city and a team that many had all but given up on. Brees's inspiring message of hope and encouragement proves that with enough faith, determination, and heart, you can overcome any obstacle life throws your way and not only come back, but come back stronger.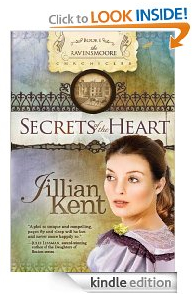 Secrets of the Heart (The Ravensmoore Chronicles)
Madeline Whittington, daughter of the deceased Earl of Richfield, emerges from English society's prescribed period of mourning in the winter of 1815. Madeline believes that she no longer belongs in a world of gossip and gowns; instead she wants to help the orphans living within the walls of Ashcroft Insane Asylum. Once there, she discovers a dark secret within the asylum walls.
Because of his elder brother's unexpected death, Devlin Greyson becomes Earl of Ravensmoore and struggles between two worlds: one of affluence and privilege and one of poverty and disease. Torn between his desire to become a doctor and the numerous responsibilities of his title, he wrestles with God's will for his future. Will he be able to honor this God-given gift and win the woman he falls in love with in a society that does not value gentlemen who work? And will Lady Madeline Whittington be able to honor her father's memory when she is attracted to the one man who could destroy the promise she made to her father?
Children's Bible Comic Book Kings and prophets
Children's Bible is a collection of comic books telling the stories of the Old and New Testament.
Remember, you don't have to have a Kindle to read these. You can read them on your computer, iPhone, BlackBerry, iPad, Droid, or Windows 7 phone.
Amazon changes prices quickly, so if you want these free books, be sure to grab them now. I haven't read any of these, so I'm not personally recommending them. I just wanted to let you know that they were available for free.
You can find more free eBooks here.