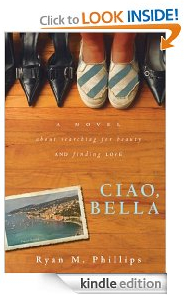 Ciao, Bella
Isabelle Mackenzie always imagined herself married with kids. Instead, at 30, she's chronically single and lives alone in a cramped condo on Chicago's north side. Sure she's got her beloved bookstore and her two best friends, Cameron and Oliver, but even they can't make up for the fact that her life hasn't turned out anything like she expected. The weighing disappointment has her questioning everything she once felt certain of, including her faith in God. So when Olly and Cam secretly volunteer her for a nationally-televised makeover, Mack decides to use the opportunity to reinvent herself. What follows is an unlikely romance with famous actor Cooper Young, a cross-continental adventure, and the long-awaited chance to make all of her dreams come true. Will Mack be able to keep her faith amidst the glitz and glamour of Cooper's lifestyle, or will she lose herself and abandon everything and everyone she cares about in the process? Ciao, Bella is the story of one woman's unexpected revelations about faith, love, and true happiness. It's a novel for all who have ever been granted the desires of their hearts only to discover that what they thought they wanted could never compare to what they already had.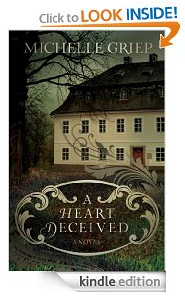 A Heart Deceived
Miri Brayden teeters on a razor's edge between placating and enraging her brother, whom she depends upon for support. Yet if his anger is unleashed, so is his madness. Miri must keep his descent into lunacy a secret, or he'll be committed to an asylum—and she'll be sent to the poorhouse.
Ethan Goodwin has been on the run all of his life—from family, from the law … from God. After a heart-changing encounter with the gritty Reverend John Newton, Ethan would like nothing more than to become a man of integrity—an impossible feat for an opium addict charged with murder.
When Ethan shows up on Miri's doorstep, her balancing act falls to pieces. Both Ethan and Miri are caught in a web of lies and deceit—fallacies that land Ethan in prison and Miri in the asylum with her brother. Only the truth will set them free.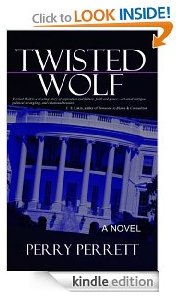 Twisted Wolf
Modern-day David and Bathsheba
What if the most upright person, stumbles? Oh, and that person, is the President of the United States? And, in the process of attempting to conceal his mistake, he is accused of treason and murder?
Army Lieutenant Josh Davis suffers a devastating tragedy while home on military leave. Trusting God for strength, he triumphs, earning the Congressional Medal of Honor. But heroism comes with consequences.
Years later, a conservative group asks Josh to run for the Oval Office. To his surprise, to get there, he must campaign against his father-in-law, a former one-term President. Their political, and personal, embattlement ends with a surprising twist of fate.
Discover what happens when Josh finds himself in the highest office in the nation. Early success leads him to seek Middle-East peace. His pride increases, devours his faith and he gives into temptation. Observe as he attempts to cover up his sin. Witness his wife as she watches her husband's downward spiral and potential guilt. Walk with Josh, as he struggles with his own inner conflict of trusting God. Is it too late to save his marriage and his presidency? Ascertain his guilt during his impeachment for treason and the murder of six Navy SEALs. Experience the twists and turns of a life seemingly out of control.
Remember, you don't have to have a Kindle to read these. You can read them on your computer, iPhone, BlackBerry, iPad, Droid, or Windows 7 phone.
Amazon changes prices quickly, so if you want these free books, be sure to grab them now. I haven't read any of these, so I'm not personally recommending them. I just wanted to let you know that they were available for free.
You can find more free eBooks here.