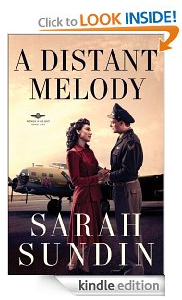 A Distant Melody (Wings of Glory Book #1)
Never pretty enough to please her gorgeous mother, Allie will do anything to gain her approval–even marry a man she doesn't love. Lt. Walter Novak–fearless in the cockpit but hopeless with women–takes his last furlough at home in California before being shipped overseas. Walt and Allie meet at a wedding and their love of music draws them together, prompting them to begin a correspondence that will change their lives. As letters fly between Walt's muddy bomber base in England and Allie's mansion in an orange grove, their friendship binds them together. But can they untangle the secrets, commitments, and expectations that keep them apart?
A Distant Melody is the first book in the WINGS OF GLORY series, which follows the three Novak brothers, B-17 bomber pilots with the US Eighth Air Force stationed in England during World War II.
Remember, you don't have to have a Kindle to read Kindle eBooks. You can read them on your computer, iPhone, BlackBerry, iPad, Droid, or Windows 7 phone.
Amazon changes prices quickly, so if you want this free book, be sure to grab it now. I haven't read this book, so I'm not personally recommending it. I just wanted to let you know that it was available for free.
You can find more free eBooks here.