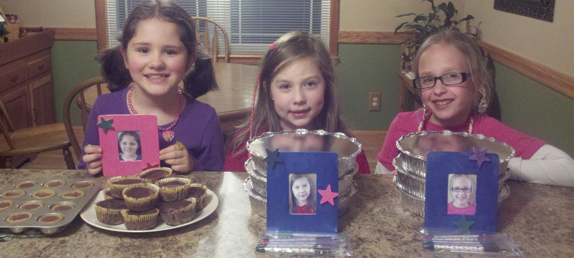 When I was asked by The Motherhood and Great Value to do something fun with Great Value brand cookie dough and cinnamon rolls, my mind immediately went to Emma. She loves having friends over. And what goes better with friends at Christmas than baking cookies and making crafts? Last Friday Emma hosted her first (possibly annual?) Christmas Cookies & Crafts party. My sweet mom volunteered (much to my husband's relief!) to come and help with all of our projects.
Her friends came straight from school, so I assumed they'd be starving. And I was right! I was ready for them with this yummy Apple Cinnamon Pizza that I topped with my homemade Warm Apple Topping.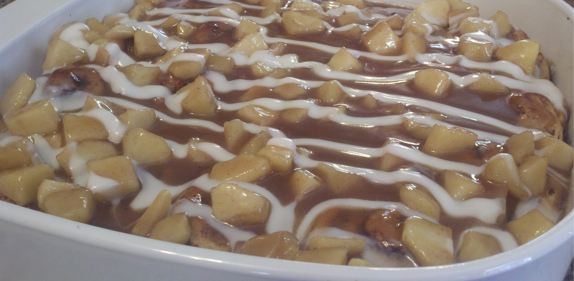 I loved that using Great Value cinnamon rolls helped me put the snack together in no time. (I promise there are cinnamon rolls under that layer of apple topping!) The girls commented on how yummy it smelled when they came in, and they really enjoyed it.
Once our snack was done, we jumped right into the first batch of cookies. We started with Triple Decker Cookies. We smashed some Great Value Chocolate Chip Cookie dough inside muffin tin cups, topped each with an Oreo, and then poured brownie batter over each one. Oh my goodness were they good! Maybe chocolate overload, but is that really possible? 😉
While our cookies baked, we did our first craft project. We took simple clear-barrel pens and made these adorable designer pens out of them. The girls already decided who's getting which pen that they made.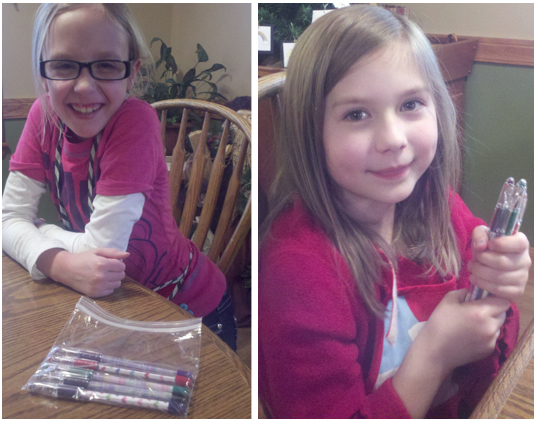 Then we were off to bake our second batch of cookies. This time we made Peanut Butter Cup cookies. You can make these using any flavor of Great Value refrigerated cookie dough. It doesn't have to be peanut butter. The girls liked pressing the frozen peanut butter cups into the warm dough. I've had these cookies many times, but I've never made them until now. They're so easy, especially if you take the shortcut that we did and use prepared dough.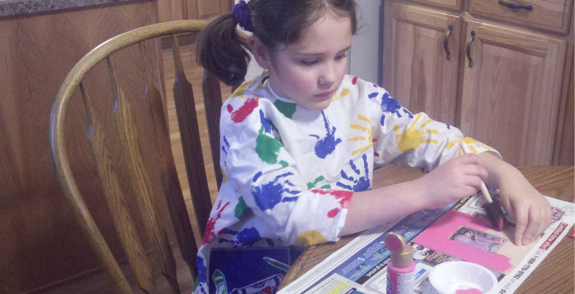 While those were baking, we tackled our second craft project. We made wooden picture frames with magnets on the back. When the girls arrived, we snapped a quick picture of each of them. Then my husband ran out to get the pictures printed while we baked and crafted. By the time our frames were done, he was back with the photos. So the girls went home with ready-to-give gifts.
When everything was baked and made, we packed up the girls' cookies so they could take them home. They each ended up with several containers of cookies to share with their families. They also decided THAT was the time to get silly.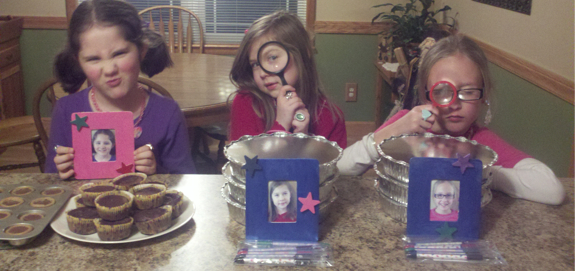 Hmm…. Now I'm wondering if they might have had too much chocolate???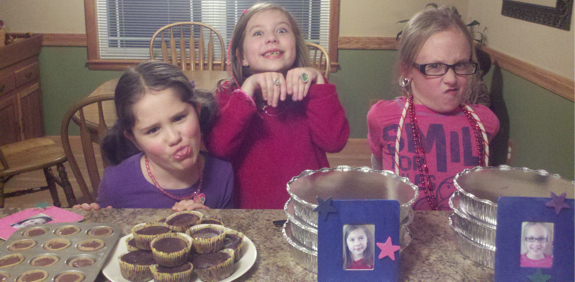 Yes, yes. Let's blame it on the chocolate.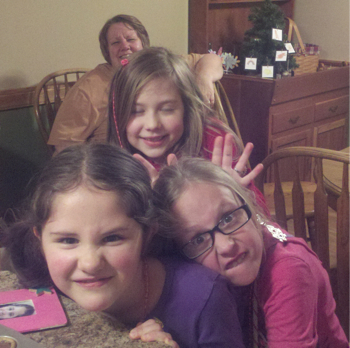 I know for sure that we wouldn't have been able to make everything we made if we had tried to mix the cookie dough ourselves. Taking the shortcut of using Great Value refrigerated dough let us focus more on the girls' time together. We're so thankful for these sweet little ladies and the time they got to spend together.
Disclosure: This post is part of a campaign sponsored by Great Value and The Motherhood. You can find Great Value products at your local Walmart. All opinions are – as always – true and my own.