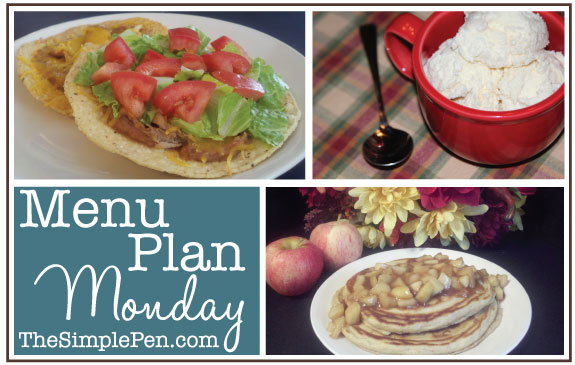 It's that time of year. The tree is up. The lights are lit. Some of the gifts are bought (though not wrapped yet!). And company is coming.  
Emma's Christmas program is this weekend, and that means out-of-town grandparents will be descending on our house. We'll have a ball hanging out with them for the weekend. And I'm determined to not spend a ton of time in the kitchen while they're here. That means that I need to spend some time preparing earlier in the week so I can relax and enjoy the weekend.
My plan is to make a pasta dish (minus the pasta) and freeze it ahead of time, make and freeze cinnamon rolls so they're ready to defrost on Saturday morning, and making a batch of granola that can be eaten in yogurt parfaits on Sunday morning.
:: Breakfasts ::
Apple Pie Oatmeal
Make-Ahead Cinnamon Rolls
Fruit & Yogurt Parfaits with Lazy Granola, Sausage
Gingerbread Scones, Fruit
Cereal, Fruit
Cinnamon Rolls, Scrambled Eggs
:: Lunches ::
Leftovers
Pizza
Sandwiches & Veggie Tray
Cheese quesadillas
:: Dinners ::
Sticky Chicken with Sweet Potatoes
Homemade Pizza
Sausage Fried Rice
Three Cheese Chicken Penne – I can make everything but the pasta ahead for company.
Easy Taco Soup – Crock Pot meal for company.
Italian Chicken Bake – Super easy so I'm not stuck in the kitchen & can visit
Hopefully now I can stick to my weekly plan so that I'll be ready way before our company arrives.
If you're looking for some general menu planning inspiration, stop by Menu Plan Monday hosted by I'm an Organizing Junkie.