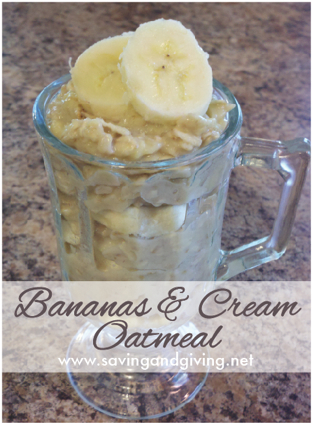 If you've been following my Breakfast Out of the Box posts, you know that I've been making an attempt to feed my family something other than cereal for breakfast. Some days it's easy. Other days it would be much easier to default to the box.
One of my quick go-to breakfasts has become oatmeal. Since we're also trying to cut down on the amount of refined sugar that we're eating, I've decided to ditch the little packets of instant oatmeal and try my hand at making it from scratch using old-fashioned oats. After a few so-so attempts, I think I've landed on a great recipe for Bananas & Cream Oatmeal that has no sugar other than what's natural in the bananas. I've discovered that it keeps us full longer than the quick oats used to. And it's oh-so yummy!
Bananas & Cream Oatmeal
Ingredients:

1 1/3 c. ripe mashed bananas (This was 2 1/2 bananas for me but it depends on the size of your bananas.)
1 1/4 c. milk (more if you like your oatmeal thinner)
1 tsp. pure vanilla extract (not imitation)
1/8 tsp. salt
1 1/4 c. old-fashioned oats (not quick-cook)
Directions:
Mash the bananas in a bowl.  I used a fork, and that seemed to work well.
In a saucepan, combine bananas, milk, vanilla, and salt.
Bring to a boil.
Reduce heat to medium and mix in oats.
Cook for about 5 minutes.
Turn off the heat, cover, and let stand for 2 minutes.
You may want to add a little more milk if it's too thick for you. You can top it with a few more sliced bananas and maybe a dash of cinnamon.
This recipe made plenty for me, my husband, and my seven-year-old.
I think part of the trick to the sweetness is using really ripe bananas. I've been buying a few extras each week and just letting them sit. When they start to get little spots on them, I either use them for a recipe or freeze them. That way I've always got ripe bananas to work with.
I'm sharing this post at:
:: Manic Monday Recipe Roundup hosted by For The Mommas
:: Mouthwatering Monday hosted by A Southern Fairytale
:: Tip Me Tuesday hosted by Tip Junkie
:: Tasty Tuesday hosted by Balancing Beauty & Bedlam
:: Tempt My Tummy Tuesday hosted by Blessed with Grace
:: Tuesdays at the Table hosted by All the Small Stuff
:: Look What I Made hosted by A Thrifty Mom
:: Works for Me Wednesday hosted by We Are THAT Family
:: Strut Your Stuff Thursdays hosted by Somewhat Simple
:: I'm Lovin' It Fridays hosted by Tidy Mom
:: Homemaking Link-Up hosted by Raising Homemakers
:: Sundae Scoop Party hosted by I Heart Nap Time
:: Favorite Fruit Recipes at Smockity Frocks
:: Chic & Crafty hosted by The Frugal Girls