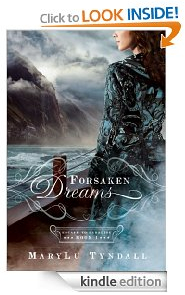 Forsaken Dreams (Escape to Paradise)
Embark on a seafaring adventure in a brand-new series from bestselling author MaryLu Tyndall….They left everything behind to build a new Southern utopia. . ..After witnessing the death and destruction caused by the Civil War, Colonel Blake Wallace is eager to leave his once precious Southern homeland for the pristine shores of Brazil and the prospect of a new utopian community. Widow Eliza Crawford seeks passage on Wallace's ship harboring a dirty secret—and a blossoming hope for a fresh start. But once the voyage begins, troubles abound. Dangers at sea and enemies from within threaten to keep Blake and Eliza from the new life—and love—they long for.
Other books in the series: Elusive Hope: Escape to Paradise (Book 2)
Remember, you don't have to have a Kindle to read Kindle eBooks. You can read them on your computer, iPhone, BlackBerry, iPad, Droid, or Windows 7 phone.
Amazon changes prices quickly, so if you want this free book, be sure to grab it now. I haven't read this book, so I'm not personally recommending it. I just wanted to let you know that it was available for free.
You can find more free eBooks here.