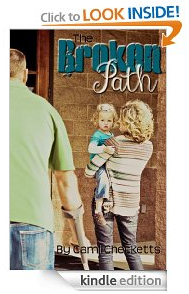 The Broken Path
Injured in a debilitating accident at age six, Ethan Searle believes women eye him with a mixture of pity and disdain. He's tried love before. He won't again. He meets his match in a precocious two-year old who loves him despite his disability, even while her mother seems bothered by everything about Ethan.
Autumn Reader escaped her abusive marriage with her beautiful daughter and a stack of fear. She can't make the mistake of trusting a man again. Autumn's daughter becomes enraptured by Ethan. Despite Autumn's best intentions, she finds herself following her daughter's example. When her ex-husband reappears, threatening everyone she loves if she won't submit to his demands, Autumn has to learn to trust or lose her chance at real love.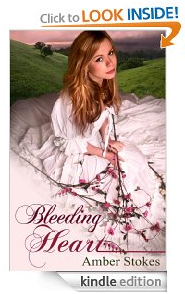 Bleeding Heart
Summer 1886
Sally Clay's livelihood has been snatched away, but in its place arises an opportunity to escape from her sordid past and an unrelenting, unwanted suitor. Boarding a train with a heartsick rancher and an enigmatic miner, she leaves Virginia City behind and heads to Northern California, waiting for the chance to make right what went wrong three long years before.
But the road to revenge is far from smooth. Sally soon learns that the jagged pieces of a broken heart can far too easily wound the hearts of others – and hers isn't the only heart that's broken. Tragedy and fear dog her steps as she flees from the redwood forests to the high desert and back again. Will her bleeding heart ever find a way and a place to heal?
A desperate soiled dove. Three men who come to care for her. One man determined to claim her.
All on a journey that will show them what true love really involves.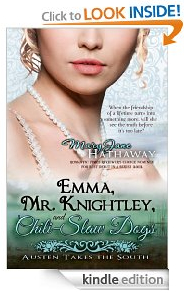 Emma, Mr. Knightley, and Chili-Slaw Dogs
Caroline Ashley is a journalist on the rise at the Washington Post until the sudden death of her father brings her back to Thorny Hollow to care for her mentally fragile mother. The only respite from the eternal rotation of bridge club meetings and garden parties is her longtime friend, Brooks Elliott. A professor of journalism, Brooks is the voice of sanity and reason in the land of pink lemonade and triple layer coconut cakes. But when she meets a fascinating, charismatic young man on the cusp of a brand new industry, she ignores Brooks' misgivings and throws herself into the project.
Brooks struggles to reconcile his parents' very bitter marriage with his father's devastating grief at the recent loss of his wife. Caroline is the only bright spot in the emotional wreckage of his family life. She's a friend and he's perfectly happy to keep her safely in that category. Marriage isn't for men like Brooks and they both know it… until a handsome newcomer wins her heart. Brooks discovers Caroline is much more than a friend, and always has been, but is it too late to win her back?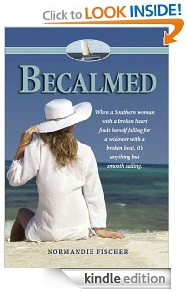 Becalmed: A Carolina Coast Novel
With her days chock full – designing jewelry for the shop she co-owns with her best friend, sailing her sharpie, and hanging out with girlfriends – Tadie Longworth barely notices she's morphing into the town's maiden aunt. When Will, a widower with a perky daughter named Jilly, limps into town in a sailboat badly in need of engine repairs, Tadie welcomes the chance to help. Her shop becomes Jilly's haven while Will hunts boat parts, and Tadie even takes the two of them sailing. It's the kind of thing she lives for, and it's a welcome distraction from the fact that her ex-boyfriend Alex, aka The Jerk of Jerks, is back in town. With his northern bride. Oh, and he's hitting on Tadie, too.
Those entanglements are more than enough, thank you very much, so it's almost a relief when a hurricane blows into town: at least the weather can match Tadie's mood. When Will and Jilly take shelter in her home, though, Tadie finds herself battling her attraction to Will. Even worse, the feeling is mutual, tempting them all with what-ifs that petrify Will, who has sworn never to fall in love again. Mired in misunderstanding, he takes advantage of the clear skies and hauls Jilly out of there and back to his broken boat so fast, Tadie's head spins.
With the man she might have loved gone, and the man she wishes gone showing up on her doorstep, Tadie finds herself like a sailboat with no wind; becalmed, she has to fight her way back against the currents to the shores of the life, and the man, she wants to have.
Remember, you don't have to have a Kindle to read these. You can read them on your computer, iPhone, BlackBerry, iPad, Droid, or Windows 7 phone.
Amazon changes prices quickly, so if you want these free books, be sure to grab them now. I haven't read any of these, so I'm not personally recommending them. I just wanted to let you know that they were available for free.
You can find more free eBooks here.