Cool Beans: A Maya Davis Novel with Bonus Content (Maya Davis Series)
Everything seems to be going perfectly for Maya Davis: She has a great job at a coffee shop, gets along with her parents, and is happily single. That is until her best friend starts dating Maya's high school sweetheart.
Loving Liza Jane (Little Hickman Creek Series #1)
When Liza Jane Merriwether rode into the town of Little Hickman Creek, her first thought was, "Oh, Lord, what have I done?" Kentucky was much different than what she was used to back East, but she knew God had led her here for a reason. Soon, the new schoolteacher is beloved by all–including Benjamin Broughton, a handsome widower with two young children. Despite his protectiveness and the fact that Ben has rescued Liza from several scrapes, her contract implicitly states that she is to have "no improper contact with the opposite sex." Liza has a lot to learn about God and His plan for her life.
Restorations (Oregon In Love)
In a small Oregon community, Sara Andersen finds herself in possession of an old farmhouse in desperate need of renovations. Brian Farris is a builder who is new in town, but intimately acquainted with Sara. His purpose is not to restore only the house, but his relationship with her. The only problem is that Sara doesn't believe Brian has undergone any soulful renovations of his own.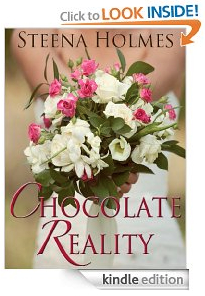 Chocolate Reality
Not many women would be able to look on the bright side of things when they are left at standing at the front of a church, alone, in a white dress, with everyone blaming her for the groom's cold feet. Yet that's exactly what Wynne does. When the only comfort she could find was in the form of chocolate, Wynne decided to open her own shop, called Chocolate Blessings.
With a not-so-secret passion for chocolate, Wynne focuses all her energy on making her passion a success. Which really isn't all that hard, think about it – what woman doesn't like chocolate? But, despite all this, Wynne can't ignore those sweet and utterly delectable dreams of love that refuse to go away. In her dreams, Wynne is dancing in the arms of a very strong and handsome man. But which man? Is it the one she turned away from years before out of fear, or the one who left her standing at the altar? Wynne has no sweet clue.
To the surprise of her best friends, Wynne finds herself knee-deep in planning her ex-fiancé's engagement party. In the whirlwind that occurs, Wynne must decide which man she is still in love with – the one who walked away or the one in her dreams. Before she can let her heart trust in love again, Wynne finds herself having to face deep heart issues in regards to trusting God first.
Remember, you don't have to have a Kindle to read these. You can read them on your computer, iPhone, BlackBerry, iPad, Droid, or Windows 7 phone.
Amazon changes prices quickly, so if you want these free books, be sure to grab them now. I haven't read any of these, so I'm not personally recommending them. I just wanted to let you know that they were available for free.
You can find more free eBooks here.