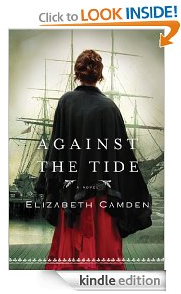 Against the Tide
After a childhood rampant with uncertainty, Lydia Pallas has carved out a perfect life for herself. She spends her days within sight of the bustling Boston Harbor, where her skill with languages has landed her an enviable position as a translator for the U.S. Navy.
Lydia's talents bring her to the attention of Alexander Banebridge, a mysterious man in need of a translator. Driven by a campaign to end the opium trade, Bane is coolly analytical and relentless in his quest. He cannot afford to fall for Lydia and must fight the bittersweet love growing between them.
When Bane's enemies gain the upper hand, he is forced to turn to Lydia for help. Determined to prove her worth, Lydia soon discovers that carrying out Bane's mission will test her wits and her courage to the very limits.
Remember, you don't have to have a Kindle to read free Kindle books. You can read them on your computer, iPhone, BlackBerry, iPad, Droid, or Windows 7 phone.
Amazon changes prices quickly, so if you want this free book, be sure to grab it now. I haven't read this, so I'm not personally recommending it. I just wanted to let you know that it was available for free.
You can find more free eBooks here.