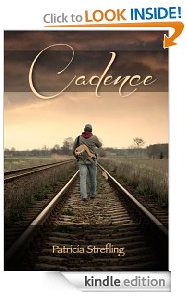 Cadence
Cadence Walker David is a hard-driving man who hails from a severely dysfunctional family in Detroit.
He finds himself in need of bail money when his brother gets into trouble and they both end up in jail. He hears a familiar voice from the past and meets up with an old street buddy – turned preacher. Frank Kincaid extracts a promise from him to play his guitar for a couple of church services in exchange for bail money.
Cade agrees. How hard could it be to play his beloved guitar for a bunch of church people? He soon finds out when the preacher's daughter, a slender blue-eyed blonde, is the music leader. He dubs her Babyface the first day. She has no idea about the real world. Cade knows nothing about this God she talks about. And if he is anything like his father Cade has no use for a God who can't even take care of his people on earth.
They are two people from two totally different worlds and Cade intends on keeping it that way – until he learns that Babyface has a past of her own.
Remember, you don't have to have a Kindle to read Kindle eBooks. You can read them on your computer, iPhone, BlackBerry, iPad, Droid, or Windows 7 phone.
Amazon changes prices quickly, so if you want this free book, be sure to grab it now. I haven't read this book, so I'm not personally recommending it. I just wanted to let you know that it was available for free.
You can find more free eBooks here.