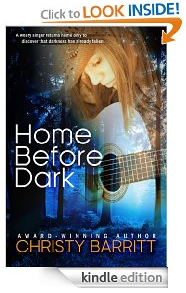 Home Before Dark
Nothing good ever happens after dark.
Those were the words country singer Daleigh McDermott's father always repeated.
Now her father is dead, and Daleigh fears she's returned home too late to make things right. As she's about to flee back to Nashville, she finds a hidden journal belonging to her father. His words hint that his death was no accident.
Small town mechanic Ryan Shields is the only one who seems to believe that Daleigh may be on to something. Her father trusted the man, but Daleigh's instant attraction to Ryan scares her. She knows her life and career, however dwindling it might be, are back in Nashville and that her time in the sleepy North Carolina town is only temporary.
As Daleigh and Ryan work to unravel the mystery, it becomes obvious that someone wants them dead. They must rely on each other—and on God—if they hope to make it home before the darkness swallows them whole.
Remember, you don't have to have a Kindle to read Kindle eBooks. You can read them on your computer, iPhone, BlackBerry, iPad, Droid, or Windows 7 phone.
Amazon changes prices quickly, so if you want this free book, be sure to grab it now. I haven't read this book, so I'm not personally recommending it. I just wanted to let you know that it was available for free.
You can find more free eBooks here.