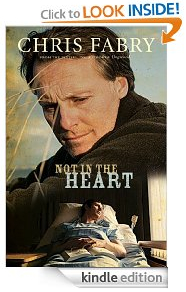 Not in the Heart
Truman Wiley used to report news stories from around the world, but now the most troubling headlines are his own. He's out of work, out of touch with his family, out of his home. But nothing dogs him more than his son's failing heart.
With mounting hospital bills and Truman's penchant for gambling his savings, the situation seems hopeless . . . until his estranged wife throws him a lifeline—the chance to write the story of a death row inmate, a man convicted of murder who wants to donate his heart to Truman's son.
As the execution clock ticks down, Truman uncovers disturbing evidence that points to a different killer. For his son to live, must an innocent man die? Truman's investigation draws him down a path that will change his life, his family, and the destinies of two men forever.
Remember, you don't have to have a Kindle to read Kindle eBooks. You can read them on your computer, iPhone, BlackBerry, iPad, Droid, or Windows 7 phone.
Amazon changes prices quickly, so if you want this free book, be sure to grab it now. I haven't read this book, so I'm not personally recommending it. I just wanted to let you know that it was available for free.
You can find more free eBooks here.