Here's a Kindle freebie that I own as a regular book. The librarian at one of the schools where I taught used this as a read-aloud, and the kids loved it. If you have a kiddo who loves adventure, be sure to snatch up this download while it's free.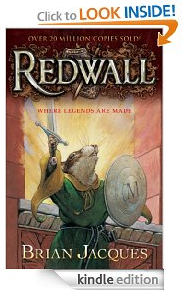 Redwall
As the inhabitants of Redwall Abbey bask in the glorious Summer of the Late Rose, all is quiet and peaceful. But things are not as they seem. Cluny the Scourge, the evil one-eyed rat warlord, is hell-bent on destroying the tranquility as he prepares to fight a bloody battle for the ownership of Redwall.
This dazzling story in the Redwall series is packed with all the wit, wisdom, humor, and blood-curdling adventure of the other books in the collection, but has the added bonus of taking the reader right back to the heart and soul of Redwall Abbey and the characters who live there.
If you enjoy Redwall, be sure to check out the other books in the series:
Mossflower (Redwall, Book 2)

Mattimeo (Redwall, Book 3)

Mariel of Redwall (Redwall, Book 4)

Salamandastron (Redwall, Book 5)
I haven't read them all, but I know that the kids were excited about them after hearing Redwall read aloud.
Remember, you don't have to have a Kindle to read Kindle eBooks. You can read them on your computer, iPhone, BlackBerry, iPad, Droid, or Windows 7 phone.
Amazon changes prices quickly, so if you want this free book, be sure to grab it now.
You can find more free eBooks here.