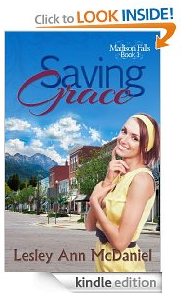 Saving Grace
What happens when a New York City opera singer flees to a small town in Montana to escape a stalker? Tracy Fontaine is about to find out.
When an obsessive fan forces Tracy to change her name to Grace Addison and go into hiding, the last thing she wants is to get to know the locals. Now, not one but two men have worked their way into her daily routine, much to the chagrin of jealous local girl Sophia, who insists on prying into Grace's past and stirring up deadly trouble.
Will Grace find love in Madison Falls…or will her stalker find her?
Madison Falls. Home of faith, love, peach pie…and a dollop of danger.
Click here to download Saving Grace.
Remember, you don't have to have a Kindle to read Kindle eBooks. You can read them on your computer, iPhone, BlackBerry, iPad, Droid, or Windows 7 phone.
Amazon changes prices quickly, so if you want this free book, be sure to grab it now. I haven't read this book, so I'm not personally recommending it. I just wanted to let you know that it was available for free.
You can find more free eBooks here.