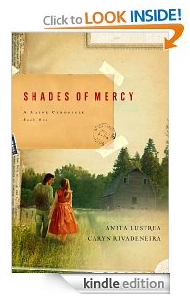 Shades of Mercy
It's 1954 and the world-even the far Northwoods of Maine-is about to change. But that change can't happen soon enough for fourteen-year-old Mercy Millar. Long tired of being the "son" her father never had, Mercy's ready for the world to embrace her as the young woman she is-as well as embrace the forbidden love she feels.
When childhood playmates grow up and fall in love, the whole community celebrates. But in the case of Mercy and Mick, there would be no celebration. Instead their relationship must stay hidden. Good girls do not date young men from the Maliseet tribe. At least, not in Watsonville, Maine. When racial tensions escalate and Mick is thrown in jail under suspicion of murder, Mercy nearly loses all hope-in love, in her father, and in God himself.
Remember, you don't have to have a Kindle to read Kindle eBooks. You can read them on your computer, iPhone, BlackBerry, iPad, Droid, or Windows 7 phone.
Amazon changes prices quickly, so if you want this free book, be sure to grab it now. I haven't read this book, so I'm not personally recommending it. I just wanted to let you know that it was available for free.
You can find more free eBooks here.