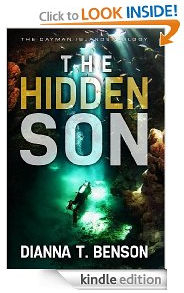 The Hidden Son (The Cayman Islands Trilogy)
When U.S. DEA Special Agent Lelisa Desmond refuses to follow an order to bury evidence in a high profile case, her superior inexplicably hires a hit man to kill her. Lelisa barely survives the first attempt on her life, but someone close to her is mistakenly murdered in her place.
Lelisa sets off on a daring mission to bring down the man who ordered her execution. A man in a high position, with powerful friends. A man who will stop at nothing to protect his son.
Can she take him down, before he sends someone else to silence her forever?
Click here to download The Hidden Son.
Remember, you don't have to have a Kindle to read Kindle eBooks. You can read them on your computer, iPhone, BlackBerry, iPad, Droid, or Windows 7 phone.
Amazon changes prices quickly, so if you want this free book, be sure to grab it now. I haven't read this book, so I'm not personally recommending it. I just wanted to let you know that it was available for free.
You can find more free eBooks here.