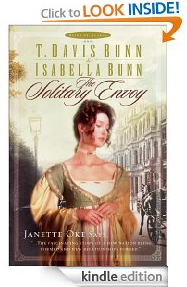 Solitary Envoy, The (Heirs of Acadia Book #1)
Erica Langston's comfortable home and loving family living near Washington, D.C., carry no outward hint of the sorrows and fears faced by her Acadian forebears, but she will soon discover that similar determination and fortitude will be required of her. When the British once again invade the nation's capital and leave death and destruction in their wake, Erica is left to deal with the creditors circling around the crumbling family business. It seems her only recourse is to travel to England to collect on outstanding debts held in British banks. Arriving in London at the home of the United States ambassador, Erica is gradually immersed in a secret mission that brings her face-to-face with her most feared and reviled enemy. She discovers that Gereth Powers is part of a group of Christian activists headed up by William Wilberforce himself. Along the way, Erica comes to realize her faith has been more cultural than real, and her spiritual journey becomes far more signi?cant than her journey over the ocean.
Remember, you don't have to have a Kindle to read Kindle eBooks. You can read them on your computer, iPhone, BlackBerry, iPad, Droid, or Windows 7 phone.
Amazon changes prices quickly, so if you want this free book, be sure to grab it now. I haven't read this book, so I'm not personally recommending it. I just wanted to let you know that it was available for free.
You can find more free eBooks here.