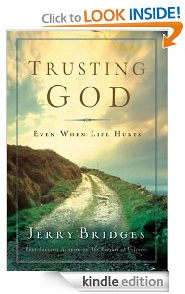 Trusting God: Even When Life Hurts with Bonus Content
In an effort to strengthen his own trust in God during a time of adversity, Navigator author Jerry Bridges began a lengthy Bible study on God's sovereignty. The revelations changed his life.
In Trusting God, he shares the scope of God's power to help you come to know Him better, have a relationship with Him, and trust Him more—even when unjust things happen. Tragedy, grief, loss, and death are part of life. Discover how Trusting God can reveal biblical truths about God.
Remember, you don't have to have a Kindle to read Kindle eBooks. You can read them on your computer, iPhone, BlackBerry, iPad, Droid, or Windows 7 phone.
Amazon changes prices quickly, so if you want this free book, be sure to grab it now. I haven't read this book, so I'm not personally recommending it. I just wanted to let you know that it was available for free.
You can find more free eBooks here.