It looks like we may have hit the jackpot with free Kindle books today. 🙂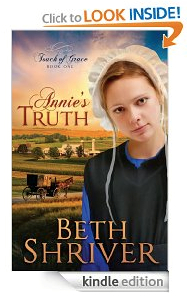 Annie's Truth (Touch of Grace)
After learning the truth about who she really is, can this prodigal daughter be accepted back into the safety and security of home?
Annie Beiler seems to have it all—a loving family in a tight-knit Amish community and the affections of an attractive and respected young man. But when she learns that she was adopted after being found as an abandoned newborn, she sets out on a journey to find out who she is.
Her father is strongly against her decision to leave, as it could mean Meidung, or excommunication from the community and even her family. But Annie knows she must find "the path that has her heart."
As Annie's search brings her into the fast-paced world of modern life, she is confronted with all of the temptations she was warned of. Can she make her way back to the order and security of her family? Or will she remain an outsider—torn between her two worlds?
Other books in the series include: Grace Given (Touch of Grace)
.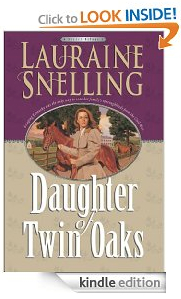 Daughter of Twin Oaks
Seeking to fulfill the promise she made to her dying father, eighteen-year-old Jesselynn Highwood determines to take her little brother and the family's remaining Thoroughbreds from Twin Oaks plantation in Kentucky to her uncle's farm in Missouri, where they will be safe for the remainder of the Civil War.
Jesselynn is also fleeing a cruel man in Confederate uniform who has pledged to take revenge against her for refusing his hand in marriage. No longer safe at Twin Oaks, she embarks on a perilous journey, taking on the momentous responsibility for the lives and welfare of all who go with her.
They ride at night and hide during the day, dodging both Confederate and Union troops along the way. Encountering hunger, sickness, and the devastation of war, they finally arrive in Missouri only to discover that the situation there puts them in even greater danger. Discouraged, disillusioned, and facing a severe testing of her faith, Jesselynn will stop at nothing to save her family, the horses, and whatever remains of Twin Oaks.
Other books in the series include: Sisters of the Confederacy
and Long Way Home.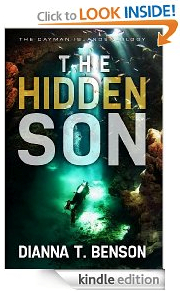 The Hidden Son
When U.S. DEA Special Agent Lelisa Desmond refuses to follow an order to bury evidence in a high profile case, her superior inexplicably hires a hit man to kill her. Lelisa barely survives the first attempt on her life, but someone close to her is mistakenly murdered in her place.
Lelisa sets off on a daring mission to bring down the man who ordered her execution. A man in a high position, with powerful friends. A man who will stop at nothing to protect his son.
Can she take him down, before he sends someone else to silence her forever?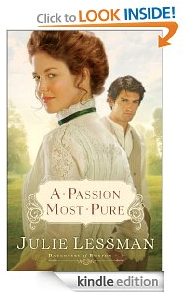 A Passion Most Pure
Refusing to settle for anything less than a romantic relationship that pleases God, Faith O'Connor steels her heart against her desire for the roguish Collin McGuire. But when Collin tries to win her sister Charity's hand, Faith isn't sure she can handle the jealousy she feels. To further complicate matters, Faith finds herself the object of Collin's affections, even as he is courting her sister. The Great War is raging overseas, and a smaller war is brewing in the O'Connor household.
Other books in the series include: A Passion Redeemed
and A Passion Denied.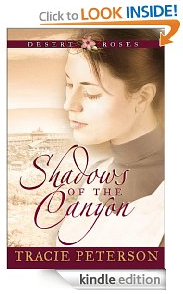 Shadows of the Canyon
Working as a Harvey Girl at the luxury resort of El Tovar, located on the south rim of the Grand Canyon, Alexandra Keegan feels she is in a dream come true. But when her father's indiscretions come to light and her mother is suspected of murder, Alex finds herself the center of some unwelcome attention. Will she soon find herself alone in the world?
Other books in the series include: Across the Years
and Beneath a Harvest Sky
.
Wings of Glass
From the best-selling author of Crossing Oceans comes a heartrending yet uplifting story of friendship and redemption. On the cusp of adulthood, eighteen-year-old Penny Carson is swept off her feet by a handsome farmhand with a confident swagger. Though Trent Taylor seems like Prince Charming and offers an escape from her one-stop-sign town, Penny's happily-ever-after lasts no longer than their breakneck courtship. Before the ink even dries on their marriage certificate, he hits her for the first time. It isn't the last, yet the bruises that can't be seen are the most painful of all.
When Trent is injured in a welding accident and his paycheck stops, he has no choice but to finally allow Penny to take a job cleaning houses. Here she meets two women from very different worlds who will teach her to live and laugh again, and lend her their backbones just long enough for her to find her own.
Remember, you don't have to have a Kindle to read these. You can read them on your computer, iPhone, BlackBerry, iPad, Droid, or Windows 7 phone.
Amazon changes prices quickly, so if you want these free books, be sure to grab them now. I haven't read any of these, so I'm not personally recommending them. I just wanted to let you know that they were available for free.
You can find more free eBooks here.